"The Mi 9 Explorer Edition, Mi 9, and Black Shark 2 topped the list, in that order, in the latest AnTuTu report"
CPU Benchmarking platform AnTuTu has published a list of the fastest phones in April 2019 and all the top three slots have been usurped by Xiaomi flagship devices. The list contains ten devices, with AnTuTu ranking them based on an average score calculated with at least 100 units per model. The test is carried on every month and for April 2019, the Xiaomi Mi 9 Explorer Edition takes top honours, followed by the vanilla Xiaomi Mi 9, and Black Shark 2 at number three spot.
Now, all three handsets rock the same Snapdragon 855 SoC and it's a bit of a surprise to see the special edition on top instead of the Black Shark 2. However, there wasn't a big gap between the scores of the three handsets. The scores were 373,715 (Mi 9 Explorer Edition), 373,511 (Mi 9), and 371,837 (Black Shark 2). There are a number of gaming smartphones that make the list such as IQOO Monster. But the most surprising is the nubia Red Magic Mars, which is the only Snapdragon 845-powered phone on the list. Huawei's Kirin 980 SoC barely makes it to the list at number ten with the Honor View 20.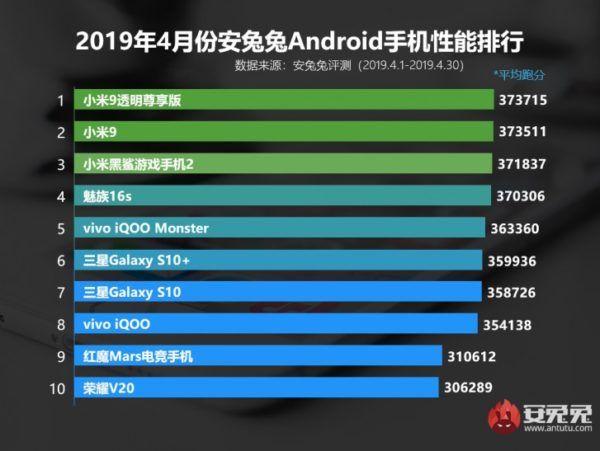 The fourth and fifth positions were held by newcomers Meizu 16s and IQOO Monster with scores of 3,70,306, and 3,63,360, respectively. Samsung Galaxy S10+ and Galaxy S10 take the next two spots. We imagine there will be big changes to this list by the end of May as we will be seeing many new smartphones landing officially this month. This includes the OnePlus 7 Pro, the ZenFone 6, the Honor 20 Pro. Also, a number of already announced devices like the OPPO Reno and Huawei P30 Pro have yet to test their muscle on the platform, so we expect a tight competition in May.
Xiaomi Mi 9 Transparent Edition Video