Update (November 9th): the review has been updated to reflect our opinions after the announcement of its official pricing.
Did you know that there is a syndrome called 'low battery anxiety'? It surprisingly affects as many as 90 percent of smartphone users. Even if you aren't aware of the term, we are quite sure that you'd have faced this for yourself. With mobile devices becoming more than communication tools, we want them to be our all-time companions. Perhaps that's why phone makers are coming up with handsets that pack large battery capacities – to ensure that they don't give up in the middle of the day or give you battery anxiety. And ASUS was among the first few to kickstart this trend with the launch of the long-lasting ZenFone Max (review).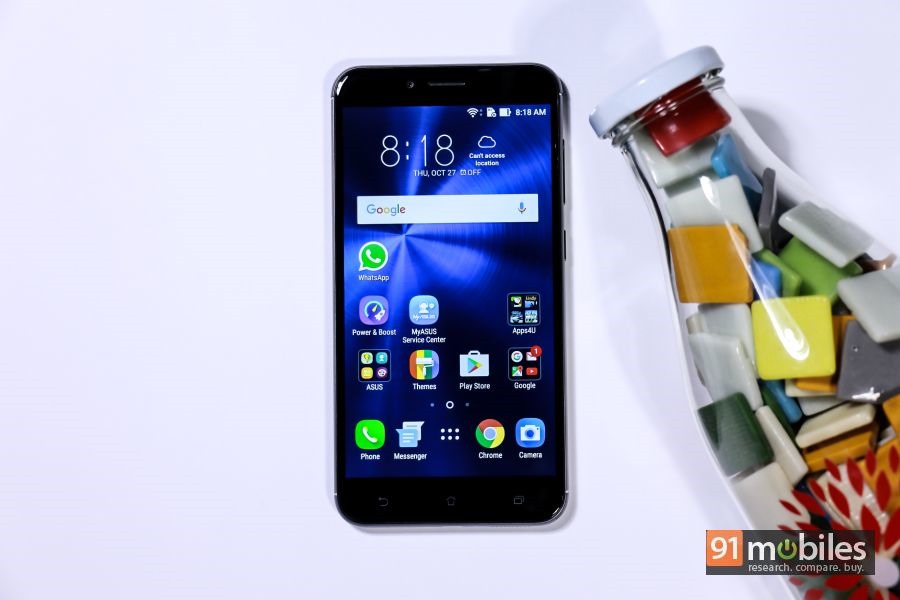 As part of its latest ZenFone 3 series, the Taiwanese manufacturer has now introduced the battery-focussed ZenFone 3 Max, which seems like a decent offering, priced at Rs 17,999. However, it's also up against some power-packed rivals such as the LeEco Le Max2 (review) and Lenovo Z2 Plus (review). Does the ASUS ZenFone 3 Max stand a chance in front of such biggies? Let's find out in our review.
Specs at a glance
Display
Size
5.5 Inch
Resolution
Full HD (1080 x 1920 pixels)
Performance
CPU
Quad core, 1.4 GHz + Quad core, 1.1 GHz, Snapdragon 430
RAM
3 GB
Storage
Internal memory
32 GB
External memory
Up to 128 GB
Battery
Capacity
4100 mAH, Li-Polymer, Non removable
Camera
Primary camera
16 MP
Secondary camera
8 MP
Connectivity
Network support
Dual SIM 4G
Other options
Wi-Fi, Bluetooth 4.1, GPS
Others
Battery Capacity
4100
Operating system
Android 6.0 Marshmallow
Design: metallic goodness
Dimensions
: 151.4 x 76.2 x 8.3 mm
With the ZenFone 3 lineup, ASUS has been able to successfully shed its image of a budget smartphone maker, and that continues with its latest offering. But, instead of the drool-inducing combination of metal and glass in the ZenFone 3 (review), the ZenFone 3 Max sports a unibody metallic construction – similar to the ZenFone 3 Laser (first impressions).
However, that's not to say that the smartphone doesn't look as premium – in fact, it's a welcome departure from its bulky predecessors. With its curved edges and rounded corners, the ASUS ZenFone 3 Max not only looks good, but feels better when held in the hand. Tipping the scales at 175g, it's surprisingly lightweight considering the capacious battery it hides inside. It's also been able to keep its thickness in check with its frame measuring 8.3mm. The metal body provides it a robust build.
In terms of design elements, the ZenFone 3 Max holds no surprises. The fascia is dominated by a 5.5-inch display panel, with an earpiece, front-facing snapper, and a couple of sensors above, and a row of navigations keys at the base. Both the textured volume buttons and power switch are available on the right, whereas the left spine features an ejectable tray that can accept a nano-SIM card and either a micro-SIM or a microSD card. Up top lies the 3.5mm audio socket, while the base gets a micro-USB port along with speakers.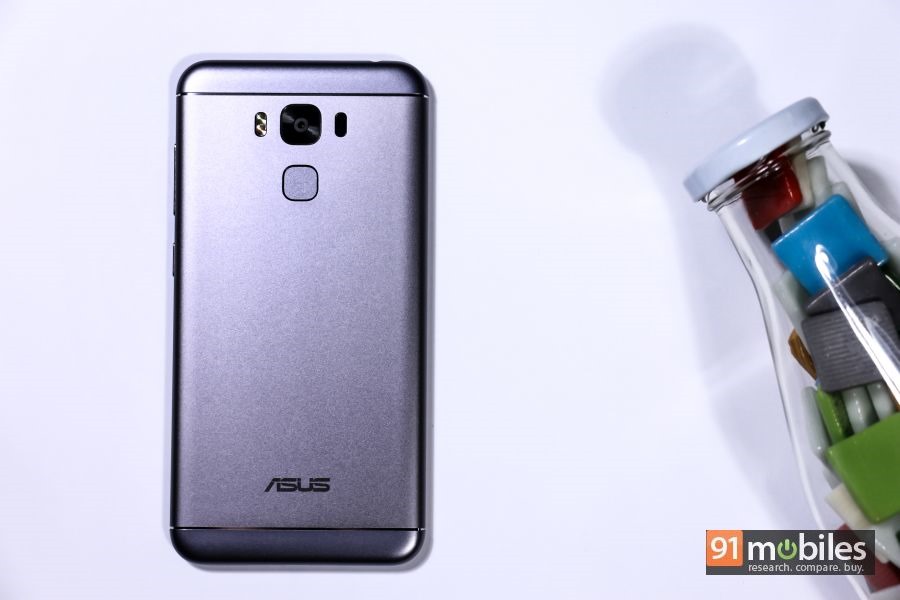 At the back, you'll find the primary camera, with the LED flash and laser focus module on either side, and a fingerprint scanner slightly below. Unlike most devices these days, the camera module sits flush with the body, which is quite good. Sadly, the metal body makes the phone slippery as soon as your hands are sweaty. Our review unit came in grey, although the ASUS ZenFone 3 Max can also be purchased in silver or gold hues.
Display: an enriching, but reflective experience
Resolution
: Full HD (1080 x 1920 pixels)
The 5.5-inch display on the ASUS ZenFone 3 Max is a 1080p affair. The screen offers decent sharpness and the colour reproduction is also impressive. However, the display is quite reflective, which makes it difficult to read anything in harsh lighting conditions. Even though the company has made use of IPS display on the phone, the viewing angles aren't the best.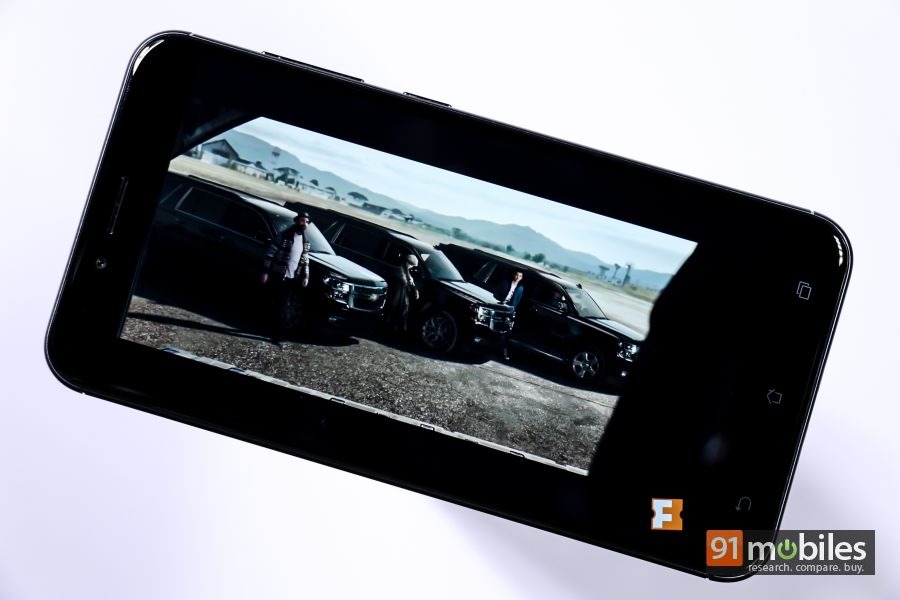 The display glazes the edges of the phone, thanks to the 2.5D panel, which is further protected by Corning's Gorilla Glass 3. The phone also features a Bluelight filter, which is really useful for long reading sessions or at night, since it puts less strain on your eyes.
Software: gets a typical bloatware-ridden ZenUI treatment
Operating System
: Android
OS Version
: 6.0, Marshmallow
In the software department, the ASUS ZenFone 3 Max isn't much different from its brethren. It comes with Android 6.0 Marshmallow, which is layered with Zen UI 3.0.
Zen UI has some interesting features such as the universal search bar, ability to auto-categorise apps in the launcher, and Game Genie (live broadcasting of the gameplay, and in-game browser to search for relevant tips and tricks) among others. It also supports a number of off-screen gestures, allowing double-tap to lock and unlock, tracing characters like W, C, and Z to open Weather, Camera, and Gallery apps respectively. There's one-hand mode that can be activated by tapping on the home button twice.
As much as we like these features, ZenUI as a whole takes a toll on the hardware because of the sheer amount of bloatware. There are a lot of preloaded apps – Amazon Kindle, Puffin, and SimCity, along with almost a dozen apps from ASUS itself such as Do It Later, MiniMovie, ZenCircle. More importantly, many of the apps that come from company's stable aren't really useful, and can't be uninstalled either. As a matter of fact, it even prods you to install more apps as soon as you set up the smartphone.
The fingerprint reader on the ASUS ZenFone 3 Max is fast and accurate. Thanks to its 360-degree authentication, the phone can be unlocked as soon as you pick it up or take it out from the pocket. It also doubles up as a shutter button while using the camera.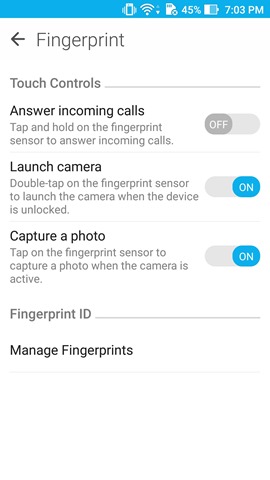 Camera: good, but not great
Flash
: Dual-color LED Flash
The ASUS ZenFone 3 Max shares its camera specs with the mainstay of the lineup, the ZenFone 3 (camera review), i.e., a 16-megapixel sensor with f/2.0 aperture at the back. It also has fast autofocusing capabilities of 0.03 seconds thanks to a combination of laser, phase detection, and continuous autofocus mechanism. Even though it misses out on optical stabilisation, it boasts three-axis Electronic Image Stabilisation (EIS) to counter the inadvertent handshakes while capturing pictures or videos. The illumination is provided by a dual-tone LED flash. At the front, the handset sports an 8MP shooter for capturing selfies.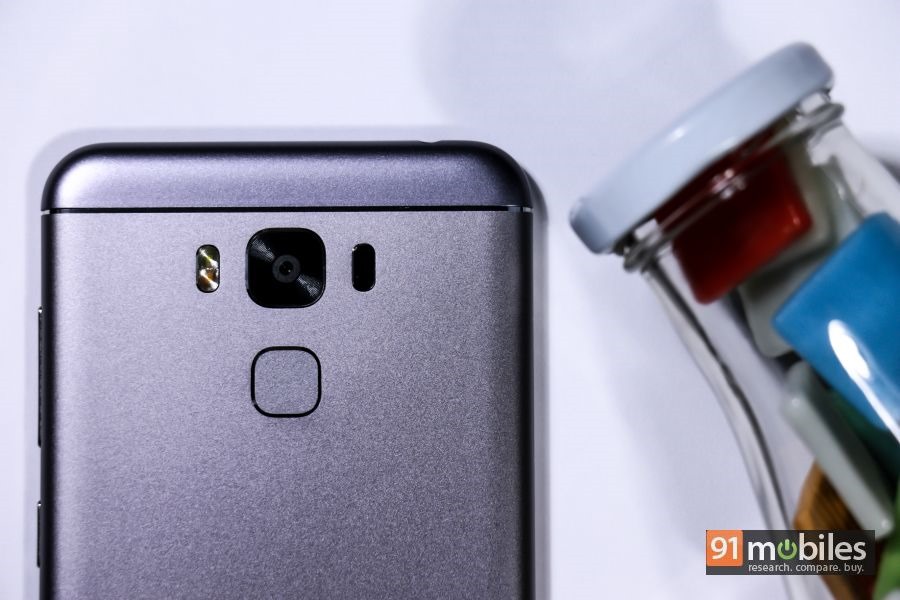 The camera interface is quite rich, as it gives you a variety of modes ranging from manual to super resolution (combing four pictures together to create a larger 64MP photo), beautification to night (capturing more details in dim environments, albeit at a lower resolution). With ASUS' proprietary PixelMaster technology, the brand has paid attention to software as well. It also detects the ambient surroundings to suggest the apt mode accordingly.
Unfortunately for the ASUS ZenFone 3 Max, all that hardware prowess results in average picture quality, at best. There are decent levels of details in the daylight, but the pixelation is apparent when the pictures are viewed in the original resolution. The images also lack the punch in terms of the colour saturation. HDR mode does help the case in livening up the scene, but its processing takes a noticeable amount of time. In poorly-lit conditions, it results in a lens flare while capturing a light source, and the images tend to have a lot of noise. Take a peek at the shots captured with the phone.
Unlike some of the alternatives, the video recording on the ZenFone 3 Max maxes put (pun intended) at 1080p resolution. While the Xiaomi Redmi Note 3 fares similarly in the camera department, both of them can't match the imaging prowess of the Moto G4 Plus (review), which is probably the best shooter in this price bracket.
Performance: manages to keep up, mostly
CPU
: Quad core, 1.4 GHz + Quad core, 1.1 GHz, Snapdragon 430
Memory
: 32 GB + Up to 128 GB
SIM Slots
: Dual SIM , GSM+GSM
With the third iteration of the ZenFone series, the Taiwanese company has changed a lot of things, and the most prominent among them is ditching Intel SoCs for Qualcomm's Snapdragon chipsets. The ZenFone 3 Max comes equipped with the octa-core Snapdragon 430 CPU, with its high-power cores running at 1.4GHz. It's coupled with 3GB of RAM, and the combination manages to deliver a lag-free performance, for the most part. Navigation is quick, and switching between apps is instantaneous, though the heavy UI does slow down the device quite often.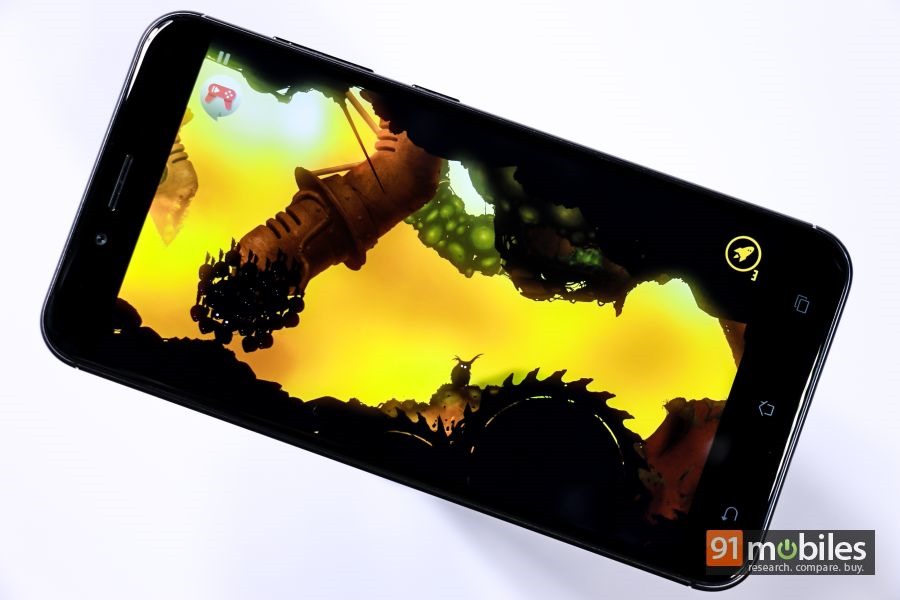 We played 3D-heavy games such as the Badland 2 and Need for Speed: No Limits, and the handset handled them just fine. While the graphics are smooth, there are noticeable stutters which spoil the gaming experience. The ASUS ZenFone 3 Max is also plagued with heating issues, as its rear heats up within just 15 to 20 minutes of gameplay.
Taking care of your storage needs is a 32GB of memory on board, out of which around 21.2GB is available to you. You can top it up further by inserting the microSD card of up to 128GB in the hybrid slot. Thanks to USB On-the-Go compatibility, you can also use flash drives with the phone.
Connectivity-wise, the ASUS ZenFone 3 Max comes with 4G VoLTE support, Wi-Fi, Bluetooth 4.1, and GPS.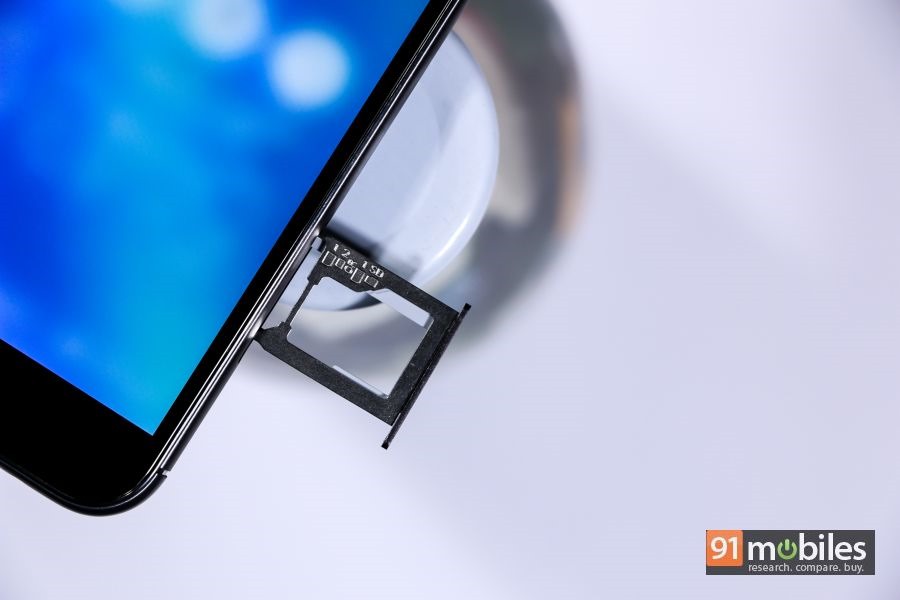 Battery: delivers on the promise
Capacity
: 4100 mAH, Li-Polymer, Non removable
The 'Max' variants of the ZenFone smartphones feature beefy batteries. However, unlike its predecessors which drew juice from powerful 5,000mAh batteries, the ASUS ZenFone 3 Max sips power from slightly smaller 4,100mAh Li-Po unit. Despite that, it's able to power the handset for about a day and a half consisting of typical usage of calls, sparing internet access via Wi-Fi or cellular data, and web browsing. Even with heavy use, it'll easily last the entire working day. Our battery test is a testament of phone's impressive battery life, as it played back a 720p video for about 15 hours and 30 minutes before giving up. You can also extend the battery of the ASUS ZenFone 3 Max further by enabling various battery-saving modes.
You can also use the ZenFone 3 Max as a power bank, as it can charge other smartphones via the bundled OTG adapter at 1.5A output. Sadly, the ASUS ZenFone 3 Max doesn't come with fast charging support, and that's a bummer. The supplied 2A power adapter takes more than three and a half hours to charge from 10 percent to 100.
Verdict
The ZenFone 3 Max is also available in a smaller variant, featuring a 5.2-inch HD display, less powerful quad-core chipset, and a 13-meg primary snapper. Priced at Rs 12,999, it's the most affordable smartphone in the family. In fact, it's bigger sibling is also cheaper than the rest of the range (the next one in the lineup is the ZenFone 3 Laser which costs Rs 18,999), and both of them manage to stand out. They offer good build quality, decent performance, and stellar battery life.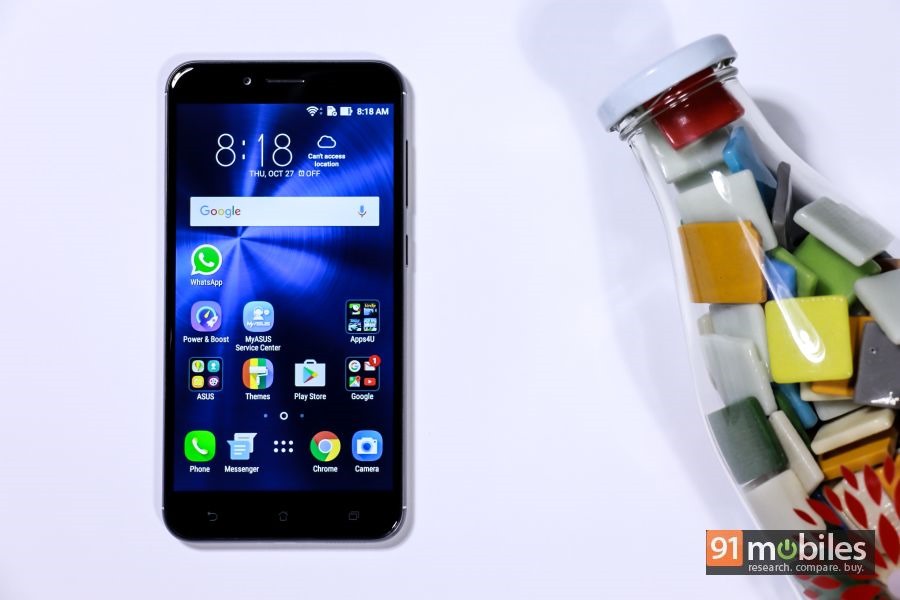 However, when we talk about the competition, then apart from the Max siblings' battery life, nothing works in their favour. In fact, the smaller variant is up against rivals that also promise marathon battery, along with packing more powerful hardware – Coolpad Note 5 (first impressions), Lenovo ZUK Z1 (review) and the most popular of all, Xiaomi Redmi Note 3 (review). The 5.5-inch model – the one we're reviewing – faces an even bigger uphill battle. Not only it has to match up to the affordable flagships, the Snapdragon 820-toting LeEco Le Max2 and Lenovo Z2 Plus, but also offerings such as the OPPO F1s (review) and Samsung Galaxy J7 Prime (first impressions) – both of which are also available offline. As a matter of fact, Note 3's smaller sibling, the Redmi 3s (review) is powered by the same processor as the ASUS' offering, yet is available at a lower asking price of Rs 8,999.
Possibly the biggest edge the ZenFone 3 Max has is its availability across online and offline stores, something many devices in the competition can't boast of. But even with its offline availability, the ZenFone 3 Max seems quite expensive for the features on offer. Except for its battery life, it easily gets beaten in all the aspects when compared to its peers, and that's why it's very difficult for us to recommend the Taiwanese brand's latest launch.
Editor's rating: 3 / 5
Pros
Robust metal body
Decent performance
Impressive battery backup
Cons
Bloatware-laden Zen UI
Average camera quality
Photos by Raj Rout