Highlights
WhatsApp messages sent to individual or group chats can be deleted with 'Delete for Everyone' feature
The feature allows the sender to remove messages from the platform in a stipulated time
Recipients can still see deleted WhatsApp messages with this workaround
WhatsApp allows you to revoke messages "mistakenly" sent to a recipient, with the 'Delete for Everyone' feature. All you have to do is long-press the message –> tap on the 'trash' icon that appears atop the page –> and select 'Delete for Everyone'. If you're doing this within a stipulated time, WhatsApp will replace the message with the banner 'This message was deleted' for the recipient. That said, the feature is not foolproof. There are workarounds with which recipients can see and read the deleted WhatsApp messages. Unfortunately, you can't read deleted WhatsApp messages on iPhone just yet. If you've got an Android mobile phone, this is how to see deleted WhatsApp messages with/ without installing any third-party app.
WhatsApp allows you to delete messages up to 13 hours, 8 minutes, and 16 seconds after sending. After that, the option will be disabled and you'll only be able to delete the messages for yourself – the recipient will still be able to read, copy, and forward the message.
How to see deleted WhatsApp messages on Android without any app
WhatsApp doesn't have a built-in feature that allows you to read deleted messages. However, if you have got an Android 11 or later device, you can read deleted WhatsApp messages without installing any app. The OS comes with a built-in notification history option that can keep a log of all WhatsApp messages, even though they have been deleted by the recipient. It's also completely free to use. Here's how to enable notification history on Android 11 mobile phone to see deleted WhatsApp messages:
Open the Settings app and tap "Apps & Notifications."
Tap "Notifications."
Tap "Notification history" and toggle the button next to 'Use notification history'
After this, all your future notifications, including WhatsApp messages, will appear on the page
You will have to follow the same steps to read deleted WhatsApp messages every time. The messages will be stacked against all other notifications (anything from the last 24 hours). You can interact with the notification by tapping it, just as if it were in the phone's pull-down notification shade. Much like Notisave, the Android 11 notification history option doesn't recover media files. For that follow the aforementioned 'how to see deleted WhatsApp media files step'.
How to see deleted WhatsApp messages on Android using a third-party app
In case, your device isn't running Android 11 or a later version, you will have to download a third-party app that keeps track of the phone's notifications. It's worth mentioning that the WhatsApp message should generate a notification for the app to record it. This may not happen when the chat is open or you were active at the time when the message was received.
On that note, let's check out how to see deleted WhatsApp messages on Android via a third-party app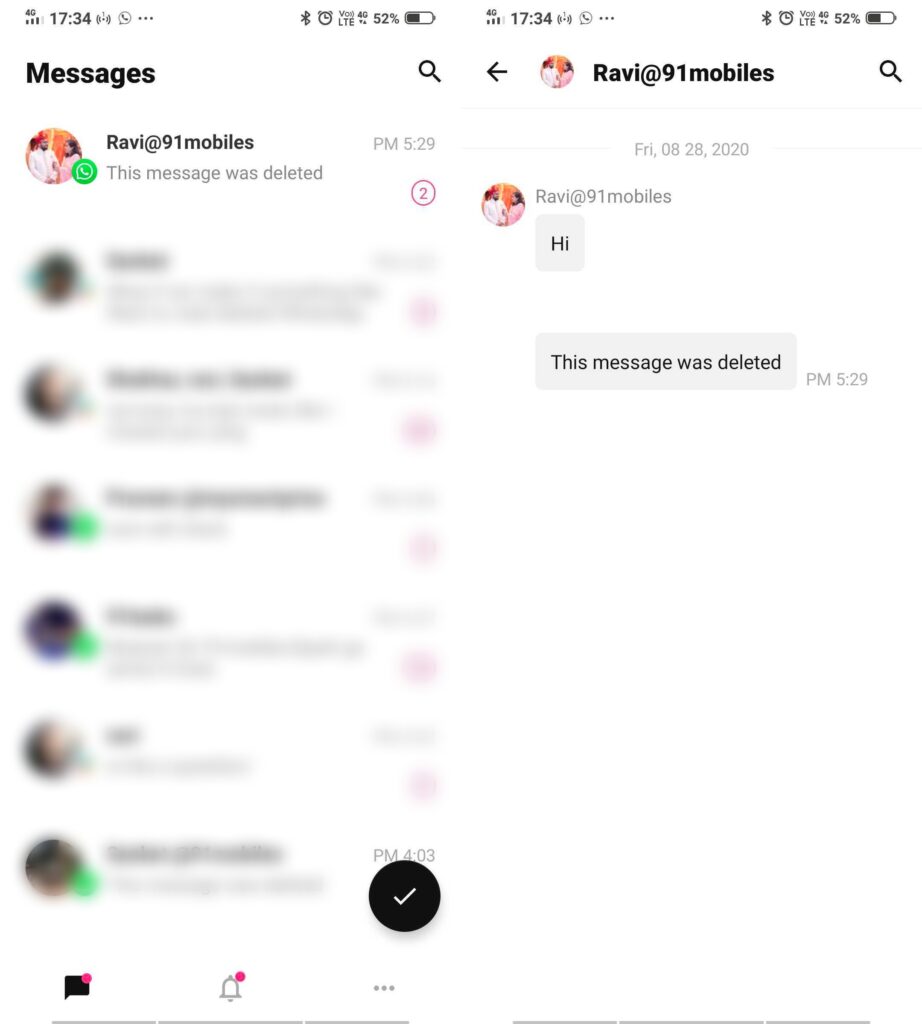 Go to Google Play Store and download an app that can keep a tab on notification history. Notisave is one of the nicest options. The app has the most number of downloads and respectable reviews.

After the app is installed, grant all necessary permissions. The Notisave app will need access to read notifications, photos, media, and files, and toggle the auto-start option.

Once that's done, the app will start keeping a log of every notification you've received, including WhatsApp messages.

After this even if the sender deletes the WhatsApp messages, you'll be able to read them via the Notisave app. This doesn't change the nature of the message on WhatsApp though.

Additionally, Notisave gives you the option to respond to messages without leaving the app.

The app also comes in handy to read the notifications you've accidentally swiped away.
Even though you can recover deleted WhatsApp messages, there are a few drawbacks to the app. You'll have to bear ads if you're using the free version of Notisave app – the paid version starts at Rs 65 a month. Apart from this, the app can only recover messages in simple text. Deleted media files, including GIFs, images, and videos, cannot be recovered or retrieved.
How to see WhatsApp deleted media files

Toggle the "automatically save images to gallery" option from WhatsApp's settings menu. This will store media files such as GIFs, images, and videos, at least from the saved contacts, locally in the storage, even if they are deleted from the chatbox.
How to see deleted WhatsApp messages on iPhone
For iPhone, iCloud is the only method to view deleted WhatsApp messages. As long as the message is backed up on Apple's cloud service, it can be restored and viewed post deletion as well. If you have that covered, here's how to see deleted WhatsApp messages on iPhone:
Delete or uninstall WhatsApp from your iPhone and re-install it from the App Store

Now, open WhatsApp and restore the old backup from iCloud

Once the backup is fully restored, you can view the deleted messages in the concerned chats.