"The Google Pixel 3 was given a score of 101 by DxOMark, which is only 1 point more than the cheaper Pixel 3a"
The Pixel 3a series of mid-range smartphones was released in May this year, with Google claiming that it has the same photography capabilities of the flagship Pixel 3 models. Our review of the Pixel 3a did show that it can take just as good photos as Google's flagships. Now, DxOMark has released the scores for the Pixel 3a and it is only one point lower than that of its bigger sibling. The one point difference is because the more expensive models scored higher in the video test. The Pixel 3a DxOMark score for photography is 103 points, which is the same as that of the Pixel 3.
Although the Pixel 3a is half the price of the Pixel 3, its photography skills remain almost the same. If you're looking for the best mid-range smartphone that can take the best photos, then the answer is obviously the Pixel 3a. The camera is the biggest selling point of the phone. Even with its single camera, it can take amazing photos, better than some similar or higher priced dual-camera or triple-camera smartphones.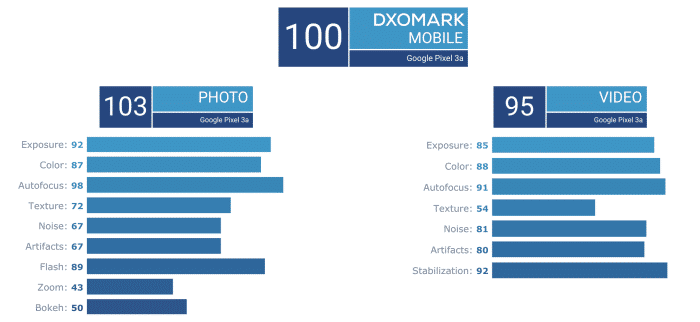 The DxOMark review also showed that the Pixel 3a takes similar or slightly better photos than the single camera touting iPhone XR. According to the tests conducted by the website, the Pixel 3a actually scores higher than the Pixel 3 in terms of colour and noise. This is thanks to better white balance control and reduced chromatic noise in post processing. When it comes to video, the phone scored 3 points lower than the Pixel 3, but produces less noise in low-light videos.
The Google Pixel 3a and Pixel 3a XL come with a single 12-megapixel Sony rear camera with f/1.8 aperture, OIS, Dual-pixel PDAF, and a dual-LED flash. The hardware is the same as the Pixel 3. However, Google did not include the Pixel Visual Core processor on the Pixel 3a, which is used to improve image processing performance. Due to this omission, the Pixel 3a takes a little longer to process the images. It's still a great phone for photography enthusiasts on a budget and a better deal than the iPhone XR.