"The Galaxy Fold 2 could have an elongated screen that could fold on the inside and a slide mechanism"
The World Intellectual Property Office (WIPO) has just published a new patent that was filed by Samsung in January this year. The patent is for a foldable smartphone with a new design that is similar to the rumoured Moto RAZR foldable phone. However, it is possible that Samsung may not use the same design and could change some aspects of it. The Samsung patent also describes how the phone could work. If the company sticks to this design, the Galaxy Fold 2 could feature an elongated display that folds inwards like a clamshell.
The patent includes sketches of the design, which have been used by LetsGoDigital to produce realistic renders. The phone is shown to have an elongated display with a large hinge at the back. This hinge allows the phone to be bent both inwards and outwards. Thanks to the wide hinge, the phone can be bent at several different points. It also appears to have a sliding mechanism, which allows the back to slide up or down when the phone is in a folded position.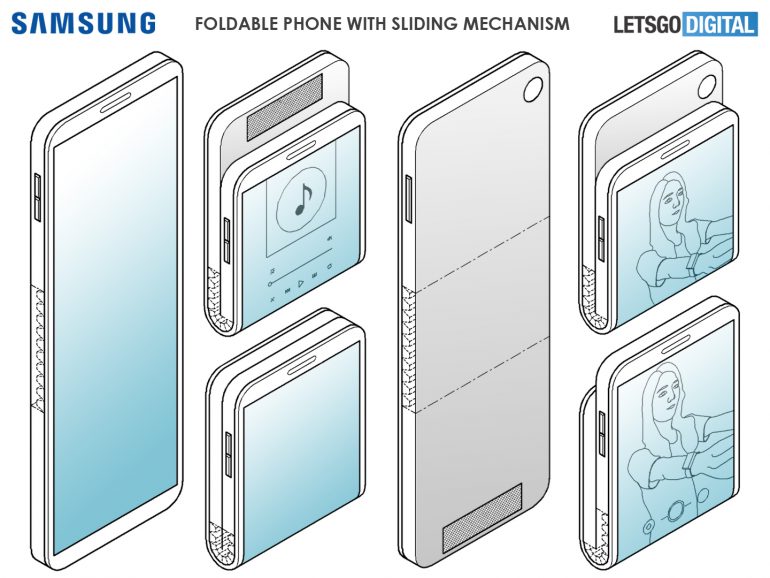 Sliding the back down will provide a larger display on the front while sliding it up will reveal a speaker setup on the bottom. The rear camera setup is also revealed when the back is in the downward position. By turning the phone around, and then sliding the back upwards, one can use the rear camera for selfies. According to the patent, the phone will have a slide-motion detector that can adjust the UI based on the fold. The patent design only shows a single rear camera, but the description states that there could be several sensors at the back.

The current Galaxy Fold smartphone has a total of six cameras, so we can definitely expect multiple sensors on the Galaxy Fold 2. The sketches/renders also show that the phone could have two buttons on the left side. It is possible that Samsung is testing out different designs for the Galaxy Fold 2.
Therefore, take this with a pinch of salt. Samsung faced issues with the launch of Galaxy Fold, which broke easily due to a design flaw. It will be finally
launched
next month, and the Galaxy Fold 2 could be showcased at the Mobile World Congress next year.