Highlights
Aadhaar card can be updated online using Self Service Update Portal
You can update your name, address, date of birth, and gender online
To update Aadhaar online, a registered mobile number is required
Looking for ways to update Aadhaar card online? We have got you covered. Below is an easy step-by-step guide on how to update/ change name, address, DoB, gender, and more on Aadhaar card. UIDIA allows users to update their Aadhaar card online using Self Service Update Portal (SSUP); however, there is a catch. You can only update name, address, date of birth, and gender online. For all other services like updating mobile number, email, and biometrics such as fingerprints, iris, and photographs, users will have to visit the nearest Aadhaar permanent enrolment centre with supporting documents. Additionally, to update Aadhaar online, you must have your mobile number registered. If you have that base covered, follow the steps below to update Aadhaar card online.
Also read: New Aadhaar card: How to apply for Aadhaar card online, check status, download, and more
Aadhaar update is free for the next three months

starting March 15th-Jun 14th online. Users can visit the 'myAadhaar' portal to update their

demographic details such as name, date of birth, address, and more without paying any processing fees. The facility otherwise attracts Rs 50, which will be the case if you visit physical centres to update your Aadhaar.
Aadhaar card update: Important things to keep in mind
Things to keep in mind before you proceed to update Aadhaar card online
You can only update your name on an Aadhaar card twice in a lifetime, that too if the changes are minor and include spell correction phonetically the same, changes in the sequence, short form to full form, and name change after marriage.

Date of birth and gender can be updated on the Aadhaar card online only once in a lifetime

There is no such limit to update the address in Aadhaar online
How to update Aadhaar card online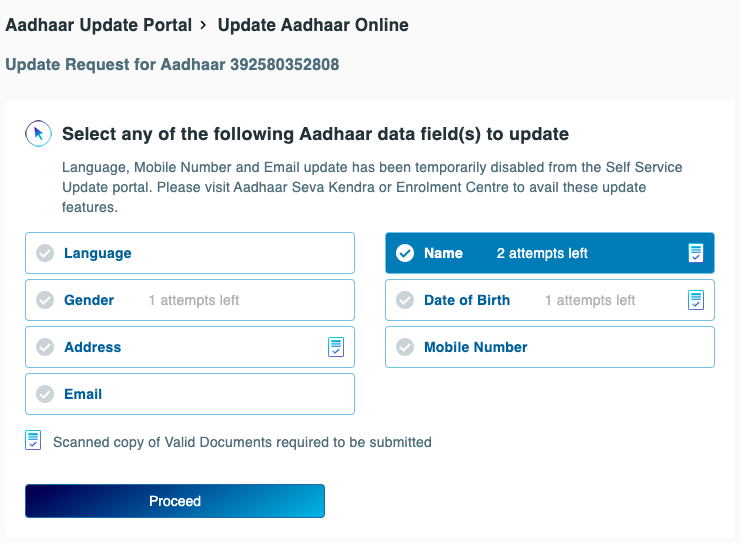 You can update your name, address, DoB, and gender on Aadhaar card online using these steps
Visit

Self Service Update Portal

(SSUP)

Select 'Proceed to update Aadhaar'

Enter your 12-digit Aadhaar number and 'CAPTCHA' code

Click 'Send OTP' to proceed

Enter one-time password sent to your registered mobile number with Aadhaar and hit 'Login'

Select the field you wish to update online from the following screen. You have the option to select multiple fields. Language, mobile number and email options are temporarily disabled from the Self Service Update portal. You'll have to visit Aadhaar Seva Kendra or enrolment centre to avail these update features.

The limit to update a particular field is written next to it

After the field(s) is selected, click on 'Proceed'

A message will prompt on your screen, giving you a walkthrough of the process. Click on 'Yes, I am aware of this' and select 'Proceed'.

Fill out the Aadhaar update/ correction form from the following screen and upload supported documents

An OTP validation will be performed using your current mobile number to successfully save the update request

Aadhaar will verify the details before updating them on your database
Also read: How to link PAN with Aadhaar card online
Documents required for Aadhaar card update
Aadhaar card update of any kind requires supporting documents. The latter can be any proof that can validate your claim on Aadhaar update/ correction form. The supporting documents can be 'Proof of Identity', 'Proof of Relationship', 'Proof of Address', and 'DOB documents'. To know exactly which documents are required to update Aadhaar online, click here.
Also Read: Aadhaar: How to check if your mobile number is linked with your Aadhaar card
How to change Aadhar card address
Without address Proof, you can update the address in Aadhaar via validation letter. The validation letter is the consent and authentication of the address verifier (a family member, relative, friend, and landlord) who is willing to let you use their address as proof. UIDAI shall send an Address Validation Letter to the address, which could be used for an online update.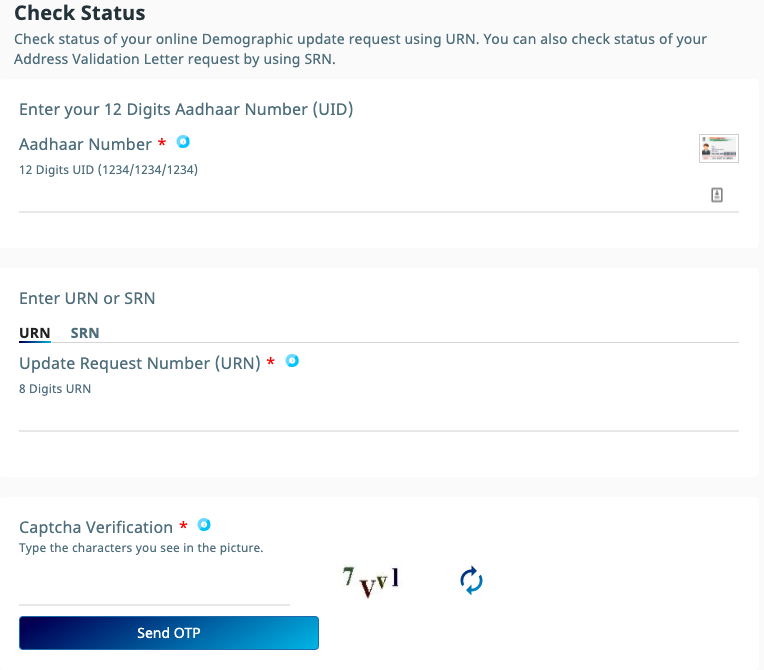 Select the 'Request for Address Validation' letter from the same Self Service Update Portal to apply for a validation letter.

Login with your Aadhaar card and enter the Aadhaar details of the address verifier. A consent message will be sent to your verifier's registered mobile number/ email ID

The verifier will have to give consent within stipulated time otherwise the request will be invalid

Once the consent is given, a validation letter containing a secret code is sent to the address of Address Verifier

Use that validation code to update your address on Aadhaar card online
How to check Aadhaar update status online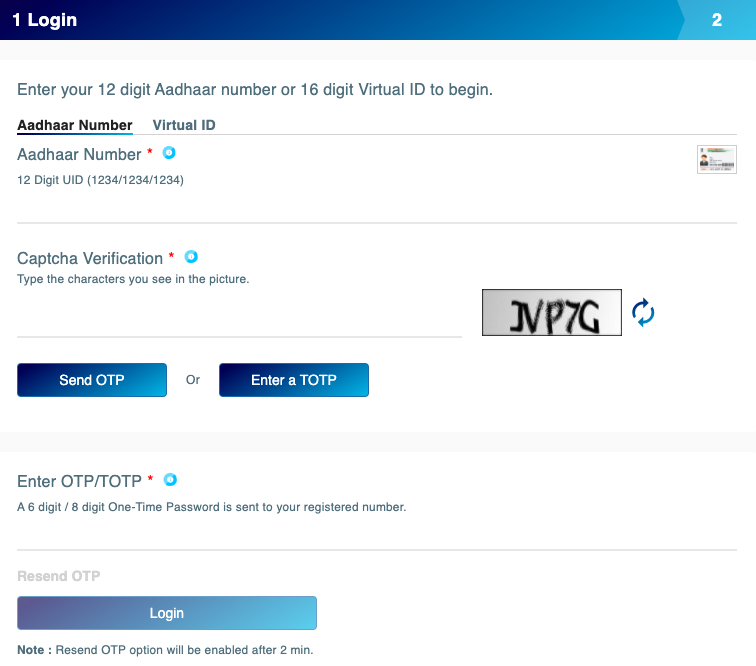 To check Aadhaar update status, go to

Self Service Update Portal

again and this time look for 'Check Status Update'

Enter your 12 Digits Aadhaar Number, followed by URN/ SRN, which is sent to you via SMS after you've applied for the Aadhaar update online

Fill in CAPTCHA code in the respective box and select 'Send OTP'

Feed that OTP in the OTP section and select 'Check Status'

The following screen will tell you whether your online Aadhaar update request is in process, completed, or cancelled
Also Read: Aadhar card: How to check Aadhaar card status without EID
How to update Aadhaar card by visiting enrolment centre
An Aadhaar card can be updated offline as well by visiting the enrolment centre. This method can be used to change address, name, DoB, and email as well as mobile number. The latter can't be done online. Here's how you can update Aadhaar card by visiting enrolment centre
Locate nearby enrolment centre via UIDAI website. The website also allows you to book an appointment
Visit the enrolment centre and fill Aadhaar Enrolment/ Correction/ Update Form. There are no extra charges for the form
Submit the form to the officer in charge at the enrolment centre. Produce a copy of the required documents. To be on the safe side, carry the original documents as well
Pay the required fees, which is Rs 50 per change
And that's that. Your verification will be done at the centre. Post which, updates will be made on your Aadhaar card
FAQs
How many days does it take change name in Aadhaar card?
A change or update of any kind, including name and Address, in Aadhaar card may take up to 30 days.
How long does it take to get address validation letter?
Aadhaar address validation letter should reach you within 30 days from the date of the submitted request.
What is issue date in Aadhaar card?
Issue date in Aadhaar card is the day on which the unique 16-digit identification number is issued to you. It's usually written along the left side where the name and address are mentioned on the Aadhaar card.

Why did my request for Aadhaar card update or correction got rejected?
There could be many reasons why your request for an Aadhaar card update or correction got rejected. Foremost could be that the document you furnished did not match the details added in the Aadhaar update or correction form.
How many times can I change name in Aadhaar card?
Twice in a lifetime.