Highlights
To register a mobile number with Aadhaar, you'll have to visit nearby Aadhaar enrolment centre
You can verify your mobile number in Aadhaar online at home for free
e-verification of any kind using Aadhaar requires OTP (one-time-password) that is sent to your registered mobile number. Therefore, it's important that your current mobile number is updated in the Aadhaar card. If for some reasons – for instance, you've lost your phone or switched to a new number – the mobile number isn't registered with Aadhaar card, follow the steps below to do it now. The steps to update mobile number in Aadhaar are pretty simple and straightforward.

Also Read: How to check if your mobile number is linked with your Aadhaar Card
How can I link my mobile number with Aadhaar card
To link your mobile number with Aadhaar, visit the nearest UIDAI permanent enrolment centre. Book an appointment online before paying a visit to the enrolment centre to avoid long queues. While you can't update mobile number in Aadhaar online, you can, of course, verify it via the official portal.

Also Read: Aadhaar update: How to change name, address, DoB, and more on Aadhaar card online
How to update mobile number in Aadhaar
The process of updating mobile number in Aadhaar is as follows
Visit the nearby Aadhaar enrolment centre. To locate the nearest enrolment/ update centre, go to Aadhaar's official website –> roll your mouse over to My Aadhaar –> and select 'Locate an Enrolment centre' option from the drop-down menu. You can search for the centre via state, pin code,

locality name, city, and district.

Fill the

Aadhaar Update/Correction Form

Submit the form to the Aadhaar executive




Pay a fee of Rs 100 for the service. Whether you update one field or many, charges for the Aadhaar update will be the same. However, to update the demographic details, UIDAI charges Rs 50.

You will be given an acknowledgement slip that contains the Update Request Number (URN)

The URN can be used to check the status of your update request, so keep it somewhere safe

Your mobile number will be updated in Aadhaar's database within 90 days
Also Read:
Aadhar card download: How to download Aadhaar card online, what is Aadhaar password
How to verify the mobile number in Aadhaar online
There are two ways to verify whether your mobile number has been updated in Aadhaar or not.
1. URN or Update Request Number
The URN number that you receive after submitting the correction form at the Aadhaar enrolment centre can be used to check the status. It can be done online with these steps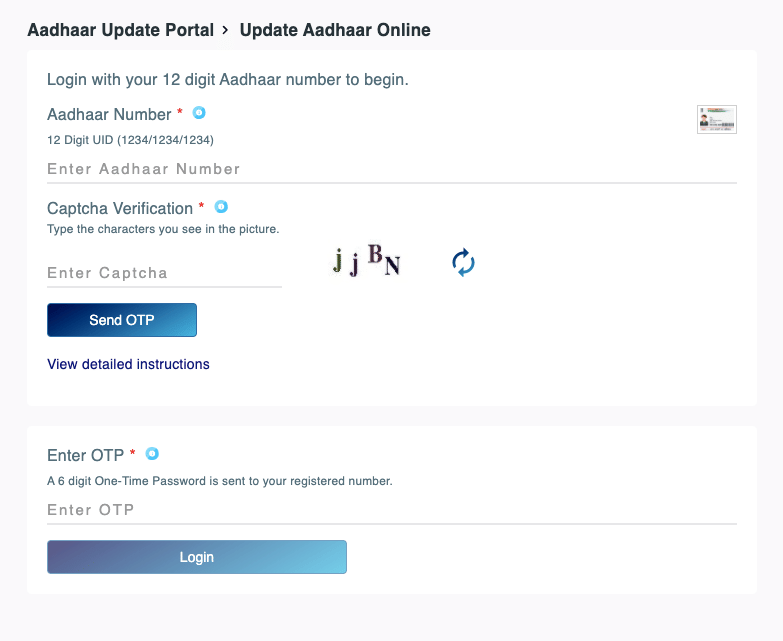 Visit

Aadhaar Card Self Service Portal

and look for 'Check Aadhaar Status' under 'My Adhaar' option

Enter your Aadhaar Number and URN Number in the respective fields

Fill in the CAPTCHA code and hit 'Check Status'

You will now be able to check

URN Status Online
2. Verify Email/ Mobile Number option
The other way to verify whether your number has been updated in the Aadhaar card is through the 'Verify Email/ Mobile Number' option.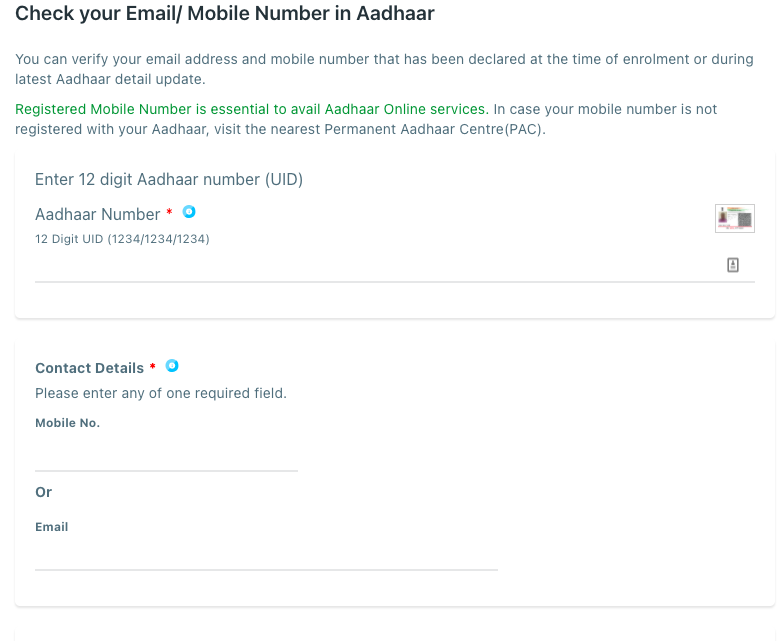 The option is located on Aadhaar's official website under 'Aadhaar Services' within 'My Aadhaar
Select the option and enter your 12 digit Aadhaar number, mobile number, and CAPTCHA code in respective fields.
You'll receive an OTP on your registered mobile number
Enter that OTP and hit 'Verify Email/ Mobile number' button
If your number is verified, the website will reflect the message for the same
How to book Aadhaar appointment online
You can book Aadhaar appointment online for fresh Aadhaar enrolment and update/ correction of name, address, mobile number, email, date of birth, gender, and biometircs. To do so,
From UIDAI's website, select 'Book Appointment' from My Aadhaar's menu

Select City/Location and 'Proceed' to

book an appointment

Enter your mobile number and

captcha code

You will get an OTP on your mobile, submit it, and fill in your Aadhaar details

Feed your personal information and s

elect your preferred date and time

Next up, you will get a booking appointment number. That's it!