e-verification of any kind using Aadhaar requires OTP (one-time-password) sent to your registered mobile number. Therefore, it's important that your current mobile number is updated on the Aadhaar card. If you've lost your phone or switched to a new number, or for some other reason, you want to change/update the mobile number registered with your Aadhaar card, follow the steps below to do it now. The steps to update the mobile number in Aadhaar are pretty simple and straightforward.
How to Change Mobile Number in Aadhaar Card (Online)
Step 1: Go to this Indian Post Office website. Alternatively, you can also download the PostInfo app from the Google Play Store or Apple App Store.
Step 2: Tap on the Service Request option to reach this page.
Step 3: Fill in details like Name, Address, Email Address, and currently registered mobile number.
Step 4: Select IPPB- Aadhaar Services in the second-last box (Select Service) and UIDAI- Mobile/Email to Aadhaar option in the last box (Select Sub Category).
Step 5: Tap on the Request OTP button.
Step 6: Enter the OTP you received on your currently registered mobile number. Tap on the Confirm Request Service button.
As soon as you hit that button, you will see a message, "Request submitted successfully," along with a 7-digit reference number. Note that down somewhere.
Step 7: Now an officer from the nearest post office would visit your house, take your fingerprint for biometric authentication and charge you about Rs 50.
In 24 hours, the new number that you give will be updated on the Aadhaar Card.
How to Change Mobile Number in Aadhaar Card (Offline)
The offline process to update a mobile number on an Aadhaar card can only be done via the enrolment centre or the Seva Kendra. Here's how you can locate the nearest Aadhaar centre:
Step 1:
To locate the nearest enrolment/ update centre, go to
Aadhaar's official website
–> roll your mouse over to
My Aadhaar
–> and select the '
Locate an Enrolment centre
' option from the drop-down menu. You can
search for the centre via state, pin code,
locality name, city, and district.
Step 2: Visit the centre and fill out the Aadhaar Update/Correction Form.

Step 3: Submit the form to the Aadhaar executive.
Step 4: Pay a fee of Rs 100 for the service. Whether you update one field or many, charges for the Aadhaar update will be the same. However, to update the demographic details, UIDAI charges Rs 50.
Step 5: You will be given an acknowledgement slip that contains the Update Request Number (URN). The URN can be used to check the status of your update request, so keep it somewhere safe
Step 6: Your mobile number will be updated in Aadhaar's database within 90 days
How to check Aadhaar Card mobile number linking status online
There are a couple of methods, namely URN and Verify email/ mobile number, to verify whether your mobile number has been updated in Aadhaar or not. Here's how they work:
1. URN or Update Request Number
The URN number that you receive after submitting the correction form at the Aadhaar enrolment centre can be used to check the status. It can be done online with these steps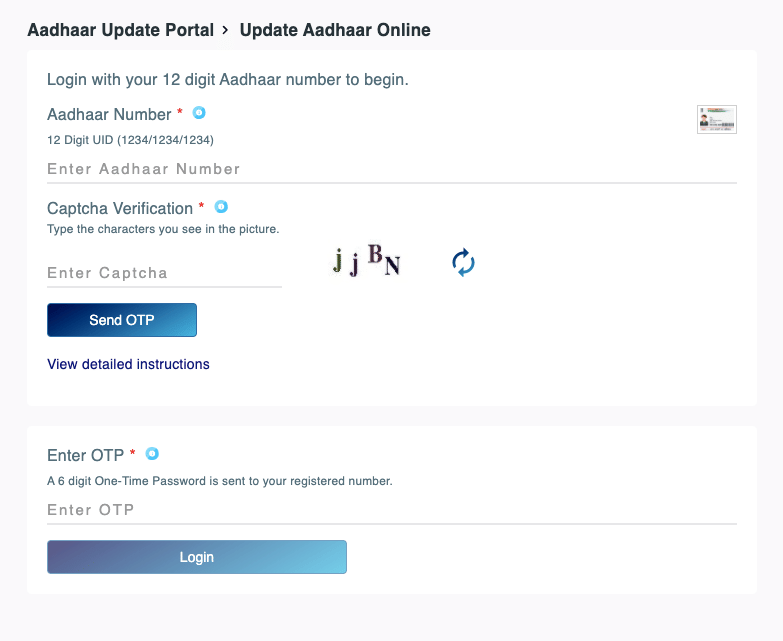 Step 1: Visit this UIDAI 'Check Aadhaar Status' page.
Step 2: Enter the URN number and captcha code in their respective fields.
Step 3: If your update request is processed, you should get a message that reads, 'Your Aadhaar is generated'. If not, you won't see this message and you should ideally wait.
2. Verify Email/ Mobile Number option
The other way to verify whether your number has been updated on the Aadhaar card is through the 'Verify Email/ Mobile Number' option.
Step 1: Go to the UIDAI website.
Step 2: Scroll and within the Aadhaar Services section, tap on the Verify Email/Mobile Number option.
Step 3: Select Verify Mobile Number. Fill in your Aadhaar number and mobile number. Then enter the captcha code.
Step 4: Tap on Send OTP.
Why is it important to update the Mobile Number in Aadhaar Card
To verify the identity of all mobile number or SIM owners. This way government would be able to sift out bad actors and criminals from the system.
It helps in better targeting and communicating with beneficiaries of various government subsidies and welfare schemes.
Aadhaar-related announcements will also be delivered to that mobile number via SMS messages.
As like we said in the beginning, this is crucial for e-verification processes related to Aadhaar.
FAQs
What charges do I need to pay for updating the phone number on my Aadhaar card?
You will be charged Rs 100 if the service involves biometrics updation and Rs 50 if you are only updating demographic details. So in this case, you will have to pay only Rs 50.
Will my Aadhaar number also change if I update my mobile number?
No, your Aadhaar number will remain the same.