PAN Aadhar linking is mandatory for applying Income Tax returns, opening a bank account electronically without providing any further documents, and authenticating tax filings, among other things. If you haven't done it yet, here's a guide that'll help you link PAN card with Aadhaar card. The process is pretty simple and straightforward. The Income Tax Department allows you to link PAN with Aadhar via its official website for free. You can also pair PAN with Aadhaar with SMS or by visiting the nearest PAN service provider centre. The deadline to pair PAN card with Aadhaar card for free was extended to June 30th from March 31st earlier this year, post which you'll be charged a penalty amount of up to Rs 1,000. Let's take a look at the many ways you can link PAN card with Aadhaar card.
How to link PAN card with Aadhar card online
To link PAN card with Aadhar card online, make sure you have all the documents by your side. Additionally, you must have your mobile number registered with Aadhaar in case an OTP is sent for verification.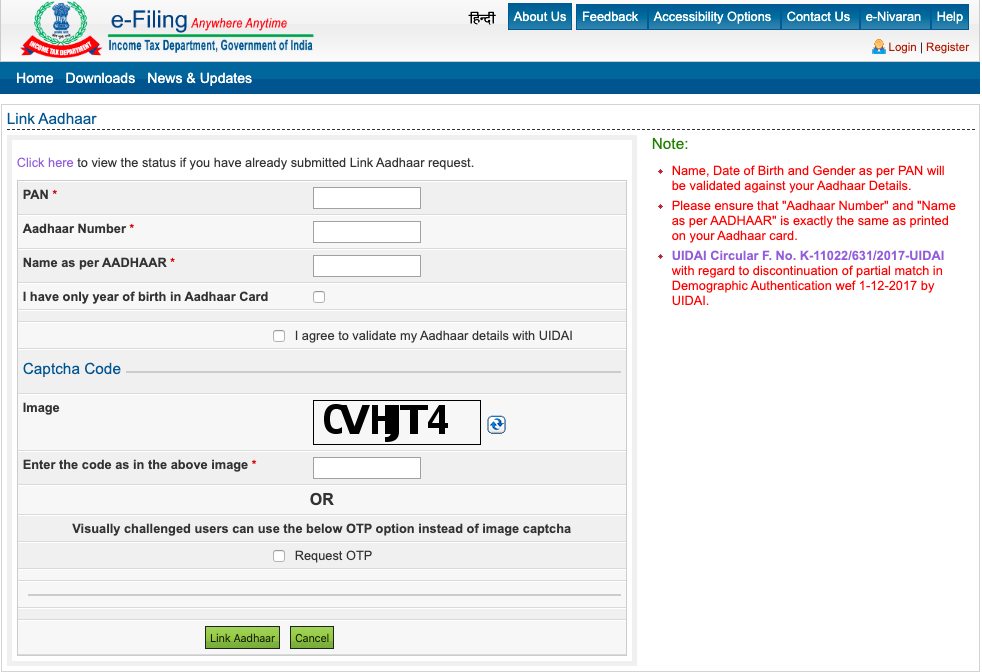 To begin head to the Income Tax Department official website and click on 'Link Aadhaar' under the Quick Links section.
This will redirect you to a form, where you need to provide your PAN and Aadhar card number, along with your name as per Aadhaar.
Quickly fill in the details, tick the "I agree to validate my Aadhaar details with UIDAI" box, enter the captcha code, and click on the 'Link Aadhaar' button at the bottom of the page. Visually challenged users can opt for the OTP option instead of the image captcha to proceed.

Once submitted, a confirmation message will be displayed on your screen. Notably, an Aadhaar OTP will be sent to a registered mobile number in case the details won't match with your PAN card
You may also visit https://www.utiitsl.com/ OR https://www.egov-nsdl.co.in/ to link your PAN and Aadhaar.
Read more: Aadhaar update: How to change name, address, DoB, and more on Aadhaar card online
How to check if Aadhaar PAN card is linked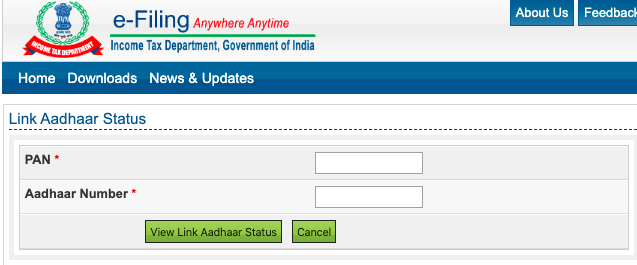 How to link PAN with Aadhar card via SMS
Additionally, users can also link PAN and Aadhaar card by SMS. Just send the following message to 567678 or 56161: UIDPAN<SPACE><12 digit Aadhaar><SPACE><10 digit PAN>. Send the message using the registered mobile number.

How to link PAN card with Aadhaar card offline
The process of linking PAN with Aadhaar card can also be done offline. For that, you'll have to visit PAN service provider centre, NSDL or UTIITSL, fill 'Annexure-I' form and produce supporting documents i.e. copy of PAN card and Aadhaar card. It's worth mentioning that an individual will be asked to pay a prescribed fee. The online process, on the other hand, is free of cost.
Aadhaar-PAN link FAQs
Aadhaar PAN link last date
The last date to link PAN with Aadhar is June 30th for now. If your Aadhaar isn't linked to PAN by then, you'll not receive your ITR and other benefits associated with it.
What will happen if you don't link your Aadhaar card with PAN card?
In addition to not able to file ITR, your PAN will become inoperative if you don't link your Aadhar card with PAN. Additionally, you may face a higher penalty for non-compliance and pay higher TDS or TCS.
Can I apply pan card without Aadhaar?
To apply for PAN online, Aadhaar is a must as the Income Tax department fetches data from the Unique Identification Authority of India (UIDAI) to verify your identity details and complete the e-KYC process. You can apply for a PAN card without Aadhaar as well. For that, you'll be required to send physical copies of your documents such as the Voter ID card, driving license, and passport, among others to the Income-tax department for verification.
You can check out more news about the other upcoming smartphones as well as popular product recommendations on our

Facebook

,

Twitter

, and

Instagram

pages and head to our YouTube channel for the latest videos.