Did you know that the iPhone XR (review) was the best-selling smartphone of H1 2019 (as per IHS Markit Research)?
And its success seems to have propelled the Cupertino giant to not only offer a similar value proposition this time around, but make it even more at par with its pricier siblings. That starts with the phone's name itself, as it's dubbed the iPhone 11 (first impressions), while the higher-end versions are called the iPhone 11 Pro (first impressions) and iPhone 11 Pro Max. Then there's the lower price tag than its previous iteration (at Rs 64,900 vs Rs 76,900 for the base version), something which is uncommon in Apple's universe. But of course, you must be wondering if the Apple iPhone 11 can repeat the feat of its predecessor. Well, the short answer is a resounding yes, and to know why, read on…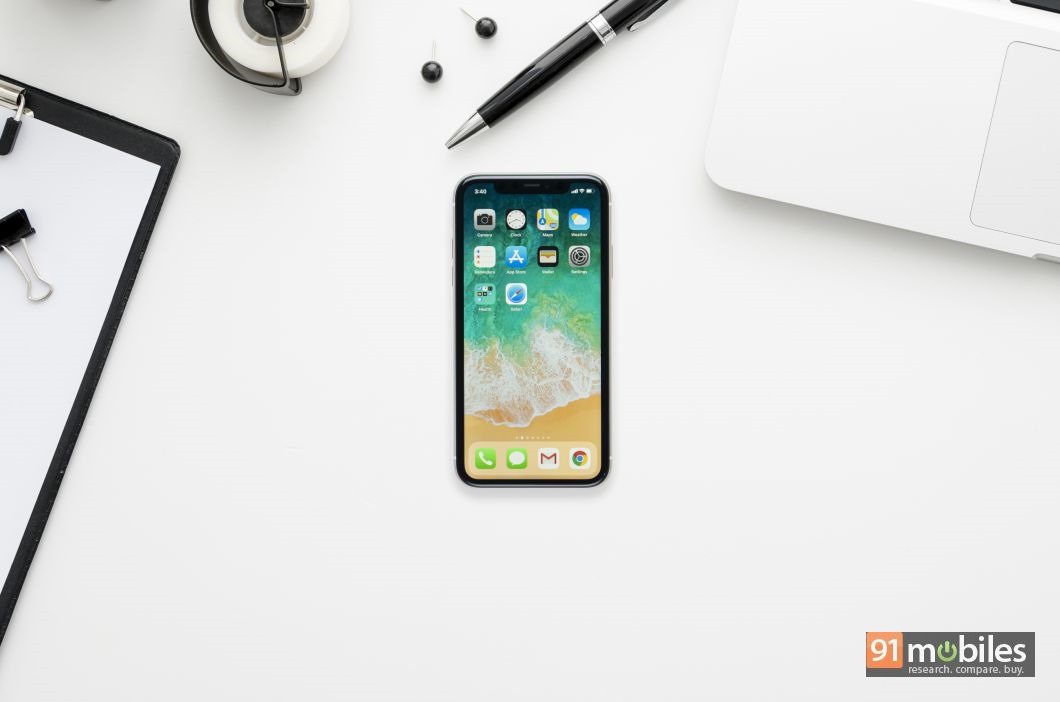 Specs at a glance
Display
Size
6.1 Inch
Resolution
828 x 1792 pixels
Performance
CPU
Dual core, 2.65 GHz + Quad core, 1.8 GHz, Apple A13 Bionic
RAM
4 GB
Storage
Internal memory
64 GB
Battery
Capacity
3110 mAH, Li-ion, Non removable
Camera
Primary camera
12 MP
Secondary camera
12 MP
Connectivity
Network support
Dual SIM 4G
Other options
Wi-Fi, Bluetooth 5.0, GPS
Others
Battery Capacity
3110
Operating system
iOS 13.0
Verdict
If you're looking to buy a new iPhone, the iPhone 11 becomes an easy recommendation. It has been priced really well, which is a good Rs 35k cheaper than the base variant of the iPhone 11 Pro. And for the additional amount, you'll be getting a third telephoto camera that may or may not be used in all scenarios, and a better display. Now there's no doubt that the full HD+ AMOLED panels on the 'Pro' models with support for HDR10+ are better than the IPS screen on the iPhone 11, but if you aren't a display connoisseur, it wouldn't make a world of difference to you.
For HDFC cardholders, the iPhone 11 is available with a cashback of Rs 6,000, which makes the deal even sweeter. Of course, you could go for the iPhone XR too, which is also available at an attractive price of ~Rs 45,000, though if you have the buying power, the iPhone 11 offers more versatile camera capabilities and slightly better battery life.
Cameras
Flash
: Quad LED True Tone Flash
Perhaps the biggest difference between the iPhone XR and iPhone XS duo (review) was the fact that the former shipped with a single camera. While Apple has brought parity by slapping two shooters at the back of the iPhone 11, it's still one sensor short of its 'Pro' siblings as they feature a trio of snappers on their backs. Yet, I've no complaints with the camera setup on the iPhone 11. You see, this is the first time that the phonemaker has offered an ultra wide-angle camera on its iPhones, and that's what you get on this device too. Yes, there's no telephoto lens unlike the iPhone 11 and 11 Pro Max, but believe you me, the use cases for using a zoom camera are fairly limited. The wide-angle camera on the other hand, adds more versatility to your shots, and I've been saying that since we started seeing them on phones like the LG G5 back in 2016.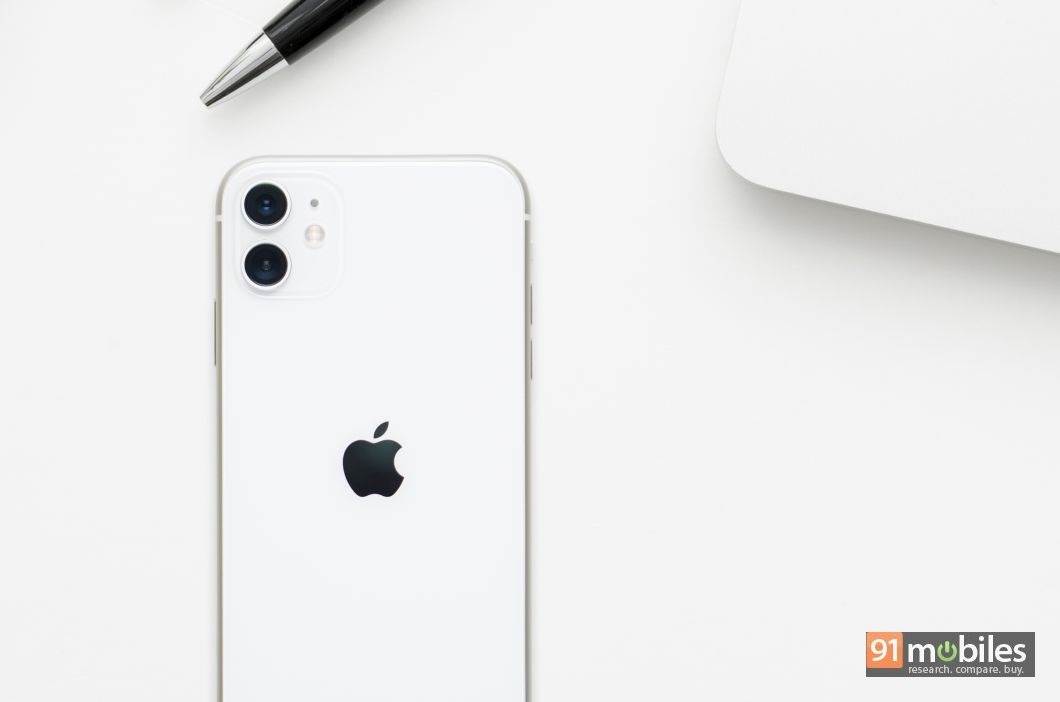 In terms of specs, both the cameras on the new iPhone 11 are rated at 12-megapixels, with the primary snapper offering an aperture of f/1.8, and the secondary one having an opening of f/2.4. Special mention goes to the camera interface on the new iPhones too, which has totally been revamped. As usual, Apple has focused on user experience, and you'll find thoughtful implementations that makes you wonder why no other OEM hasn't tried it before (but then not everyone's Apple!). Case in point: instead of needing to select the ultra wide-angle mode, the viewfinder displays the frame so that you can decide if you want to use it to capture the particular scene. Similarly, the night mode shows you the progress of how the shot is getting better that just makes the process of capturing photos more satisfying. There's also an option of capturing photo or video outside the frame, which saves the wide-angle shot along with the normal one. This way, the device is able to suggest a better frame just in case the subject you have captured with the normal shot might have been cut. Other than that, the UI is fairly simple to get used to… with the shutter button sandwiched between the preview gallery and toggle for the front camera. Above it, you'll find various options to capture a photo, portrait, panorama, video, slow-mo among others. Up top, you can enable the flash, night mode (as mentioned above, it appears automatically if you're capturing such a scene), and live mode. Upon clicking the arrow key in the middle, you can expand these options to change the aspect ratio, turn on self-timer, apply various real-time filters. Taking a page out of Instagram's stories, the viewfinder also lets you capture videos by long-pressing the shutter key. The feature is termed quick take and you can also lock the button so that you don't have to keep it pressed manually.
Apple is staking a strong claim for the king of camera phones. While the Pro models are more suitable for that title, the iPhone 11 will certainly impress you with its image quality. The tech titan has made a name for itself by offering well-balanced, close-to-natural colour reproduction with good dynamic range across scenarios, and its latest is no different. If you want more detailed analysis, here you go:
1) The primary shooter offers a high level of details with pleasing colour output in all sorts of conditions, be it well-lit situations, indoors or dim environments.
2) Speaking of that, the night mode on the iPhone 11 is mind-blowing. It enhances the entire shot, without making it look too artificial, which means that the exposure is kept in check.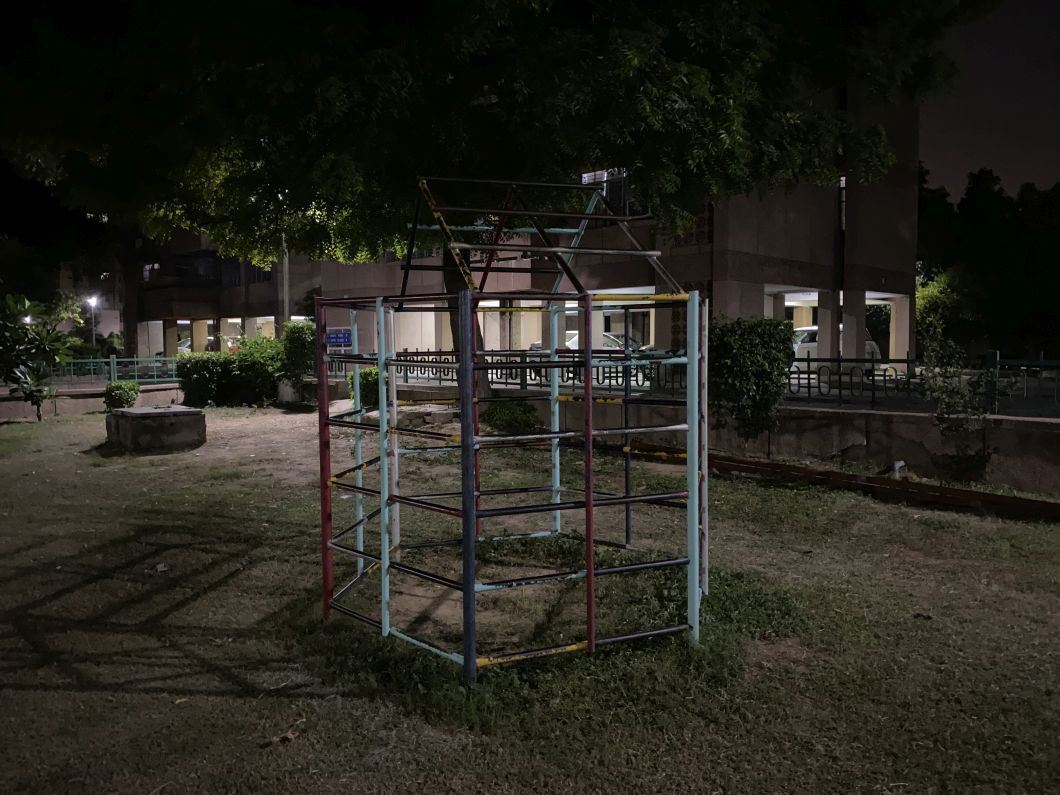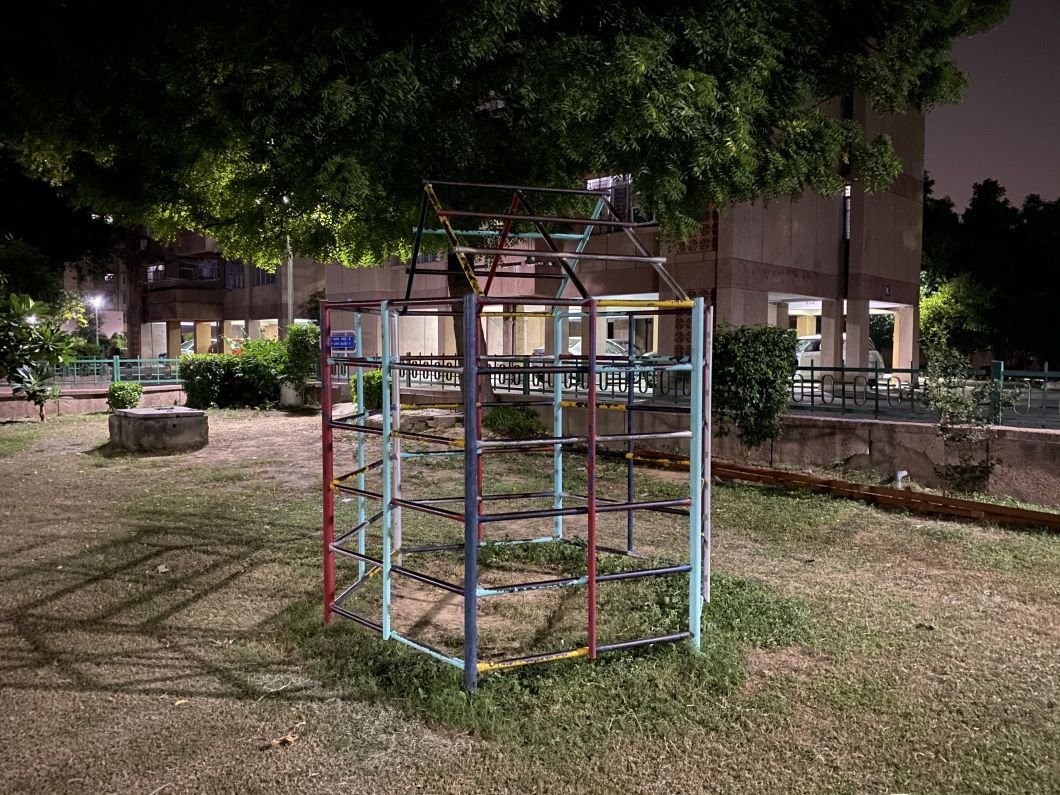 3) The iPhone 11 has better portrait mode too, as unlike its predecessor, you can get the bokeh effect for objects aswell. The portrait effects have also been improved, with the Mono looking quite pleasing.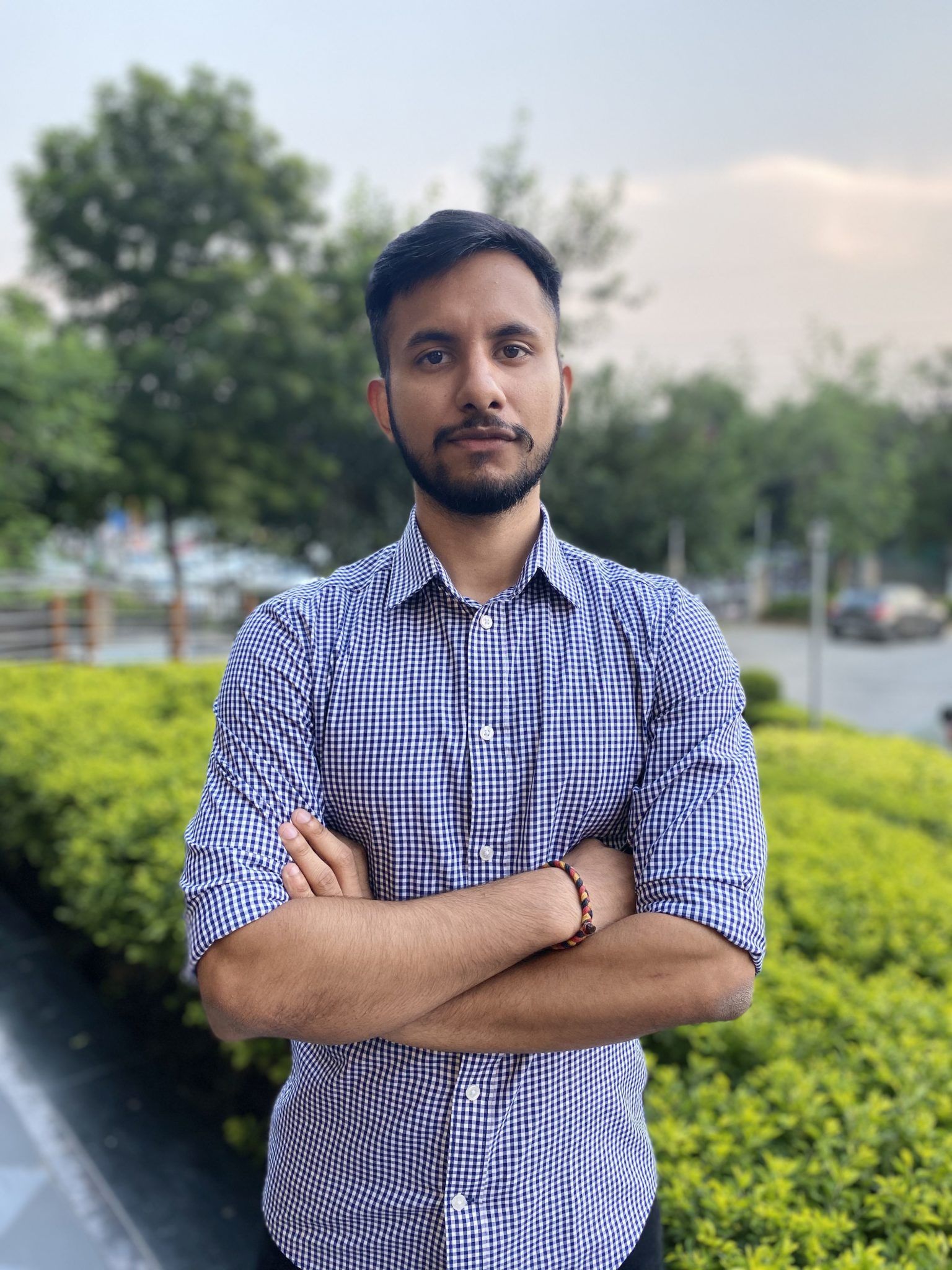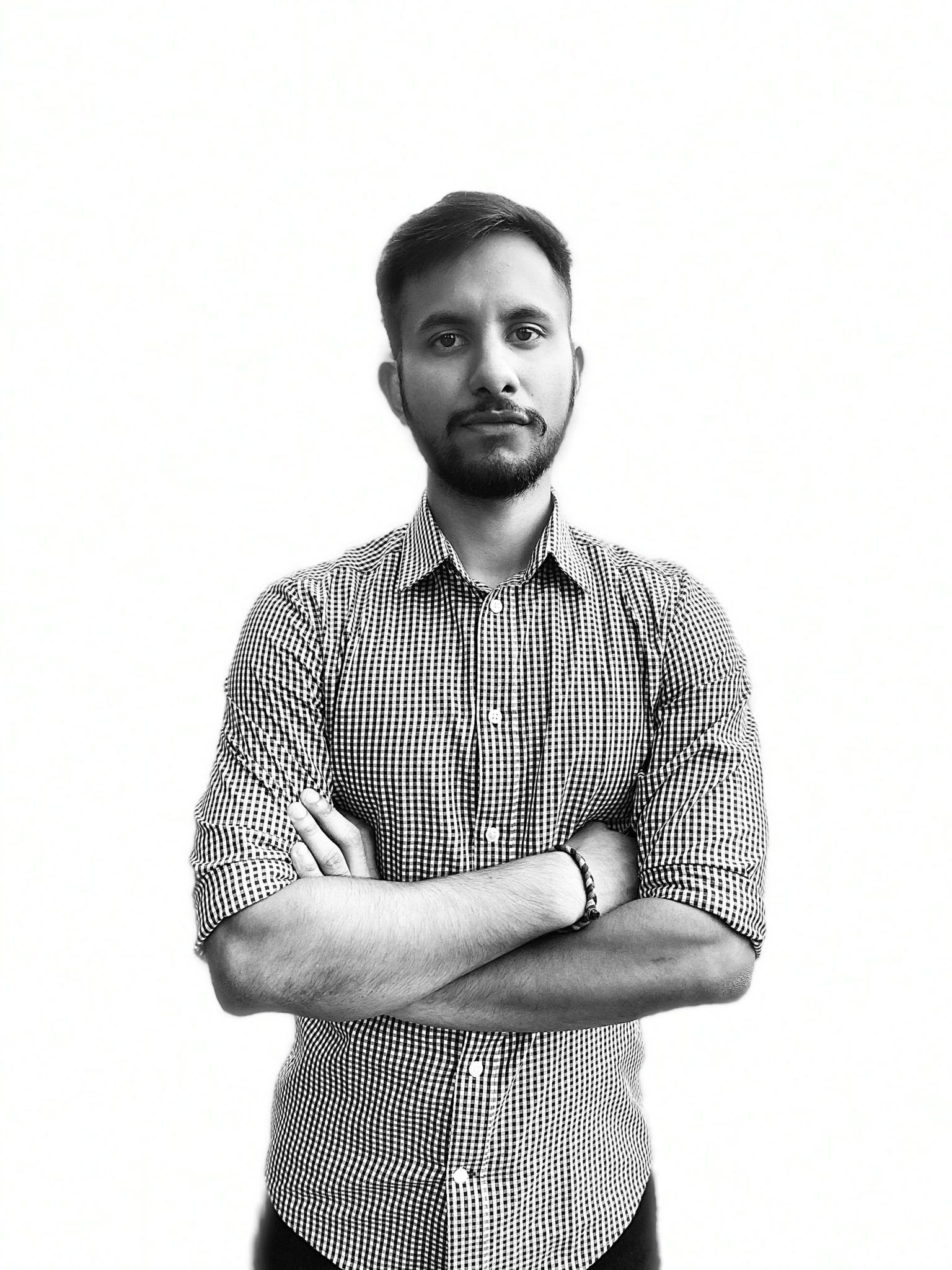 4) The HDR mode has come a long way since its inception, with the phones automatically enabling it depending upon the scenario. Apple's implementation for the same is referred to as Smart HDR and it goes a step further by combining multiple exposures into one shot.
5) Ultra wide-angle sensors on phones usually suffer from distortion issues or loss of detail. That's not the case with the iPhone 11 series however, as the device captures impressive landscapes that are quite sharp even towards the edges. Sadly though, there's no autofocus for this mode and you can't use the night mode either, which means that wide-angle images aren't that good in poorly-lit situations.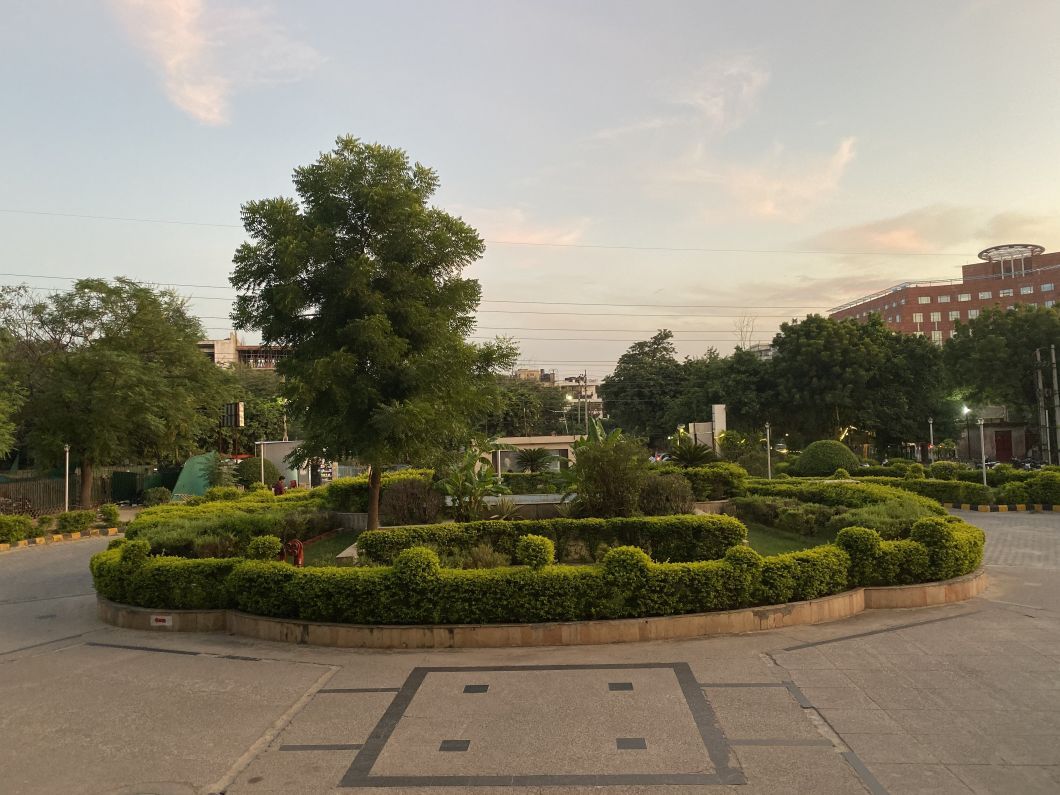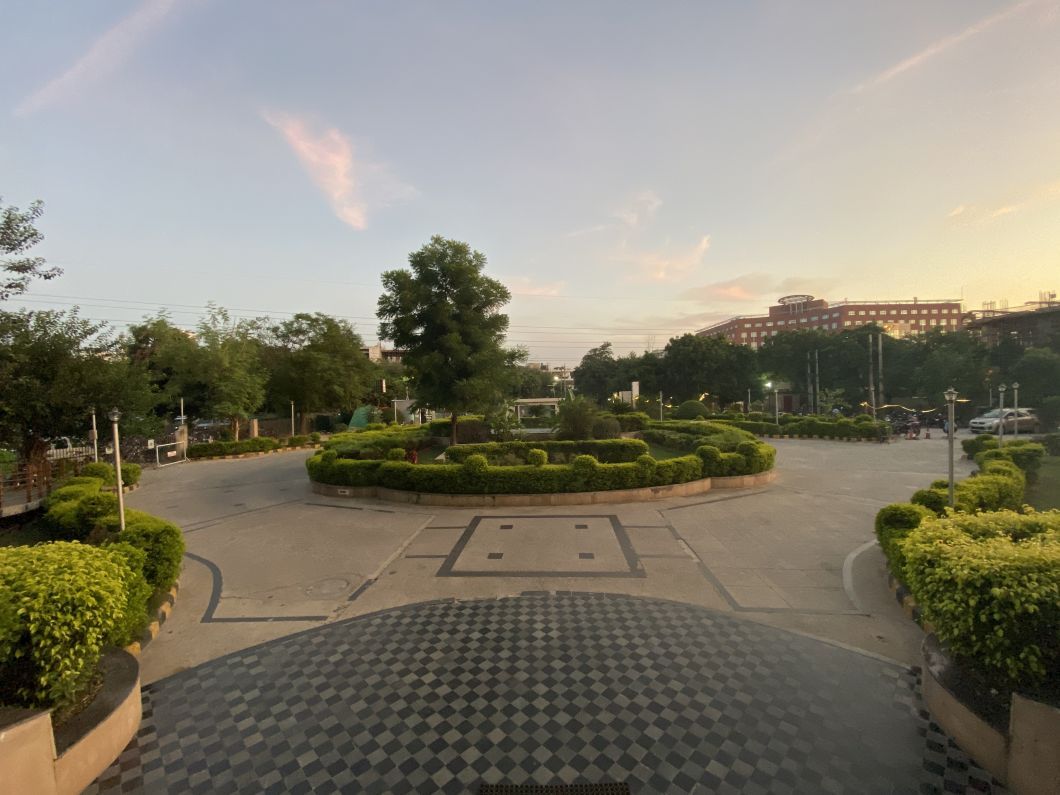 6) With regards to videos, the iPhone 11 can capture 4k videos at 60fps, with the output offering an impressive level of details and accurate colours. Thanks to dynamic stabilisation, the footage is smooth too.
7) You also get time-lapse and slow-mo video recording capabilities (720p at 240fps) with the iPhone 11, which are impressive, yet again.
8) Selfies have also been improved on the new iPhones, thanks to a new 12-megapixel sensor. The images are crisp, edges are sharp and the colours are natural too. Interestingly enough, if you're clicking selfies in portrait orientation, selfies are captured in 7MP resolution, but if you shoot them in the landscape mode, they're in the 12MP size (you can change this manually however).
Apple iPhone 11 camera samples
To sum up, the iPhone 11 has managed to bring Apple near the top of the best camera phones chart. While the Pro models will be crowned with that title, their affordable sibling is no less, and can easily take on Android-toting rivals like Huawei P30 Pro, Google Pixel 3 XL and Samsung Galaxy Note 10. That said, it remains to be seen if this remains for long, for the Huawei Mate 30 Pro and Google Pixel 4XL launch in India isn't far off.
Design and display
Resolution
: 828 x 1792 pixels
Apple has been known to follow the tick-tock cycle for its iPhones alternating between major design changes and improvements in the internals every alternate year. However, in the past couple of years, it's difficult to find that pattern, and same is the case in 2019 too. Just like the iPhone X – launched two years ago – the iPhone 11 and its brethren feature a wide notch on the fascia, which makes the device seem like a misfit in today's day and age of all-screen displays, dewdrop notches and punch-holes.
However, there's a reason for the notch… it sports the sensors that enable 3D face unlock. Face ID, as it's being referred to, works as reliably as ever. And this time around, it's a tad faster too. Having said that, I still feel that it'd have been mre flexible if there was a fingerprint reader or some other authentication mechanism alongside.
Just like last year's iPhone XR, the all-new iPhone 11 comes in a slew of colours. However, this time around they aren't bright and seem rather subdued. My review unit arrived in a classic white hue, but you could opt for green, purple, yellow, black, and (PRODUCT) Red options.
As far as other elements are concerned, the iPhone 11 is eerily similar to the iPhone XR… including the dimensions and weight. The elongated power switch is present on the right spine, whereas the left edge is home to the volume rocker and mute switch.
Apple iPhone 11 design gallery
Apple proclaims that the iPhone 11 has "the toughest glass in a smartphone", which is available on the rear and front too. The fascia gets a custom Gorilla Glass layer for keeping scratches and minor nicks at bay. Speaking of durability, the device comes with an upgraded IP68 rating, making it resistant to water of up 2m depth for 30 minutes.
One of the biggest arguments against the iPhone XR was its HD+ display, and same finds its way on its successor. The 6.1-inch Liquid Retina display features a resolution of 828 x 1,792 pixels. While you might scorn at an HD+ screen in 2019, truth be told, it's as good as a display can be unless you start pixel peeping. It's vibrant and offers good brightness levels and viewing angles. Its contrast levels can't match an AMOLED panel, however. The IPS screen misses out on HDR10+ and Dolby Vision support too, which means that you may not enjoy darker scenes on Netflix or Prime Video as much as on the iPhone 11 Pro siblings.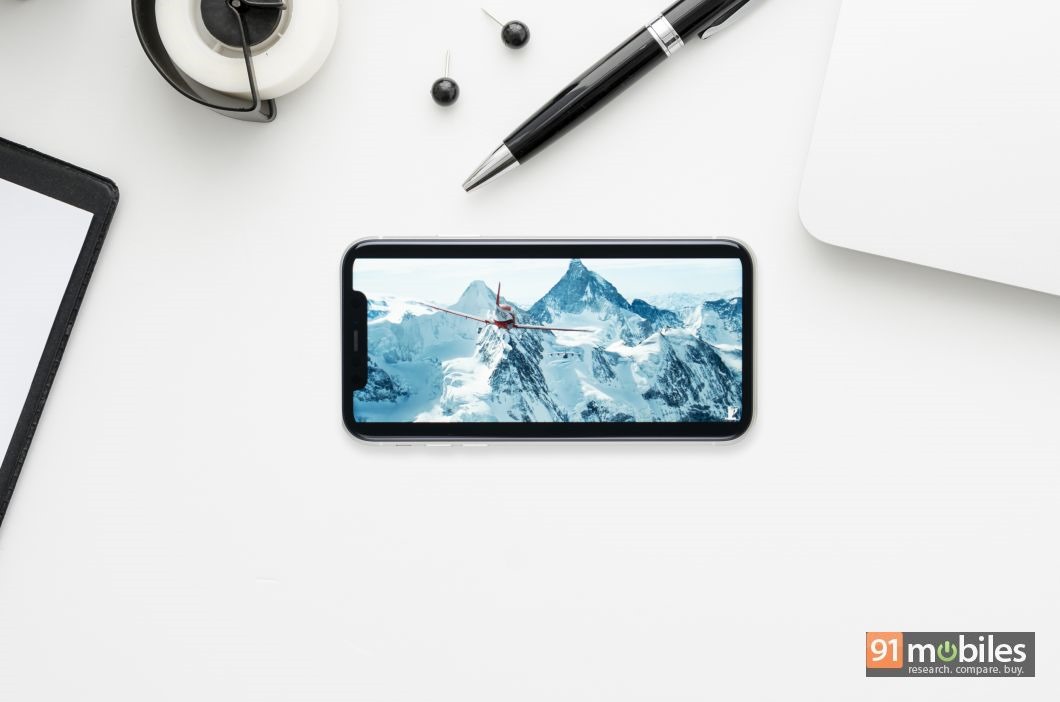 Performance
CPU
: Dual core, 2.65 GHz + Quad core, 1.8 GHz, Apple A13 Bionic
GPU
: Apple GPU (four-core graphics)
SIM Slots
: Dual SIM , GSM+GSM
"The fastest CPU ever in a smartphone"
If you've followed the launch of iPhones, then you'd be familiar with that statement. That's because Apple makes its own SoCs and hence is able to innovate and finetune them better than other chip giants. The new devices utilise the latest Apple A13 Bionic inside, which is a 7nm SoC holding hexa-core processors with a 2.65GHz dual-core cluster for performance-oriented tasks. Truth be told, you wouldn't be able to judge the performance improvements on the iPhone 11, especially if you've used last year's iPhones too. To put it in numbers however, the company claims that the silicon is 20 percent faster than the A12 Bionic, while being power efficient at the same time.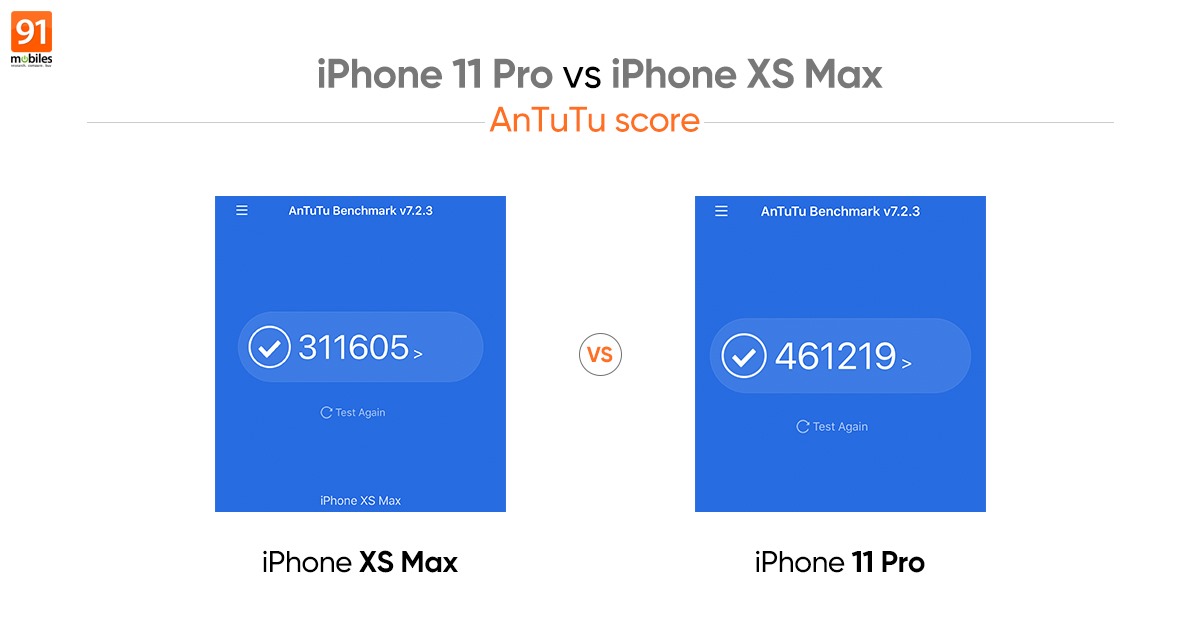 Couple that with the quad-core graphics processor, and the iPhone 11 brings a lot of power to your hand. Playing 3D-heavy titles like PUBG Mobile and newly-released Call of Duty: Mobile is a matter of child's play (pun intended) for the smartphone. It has also managed its thermals quite well, and I didn't see it heating up a lot even after playing for about an hour.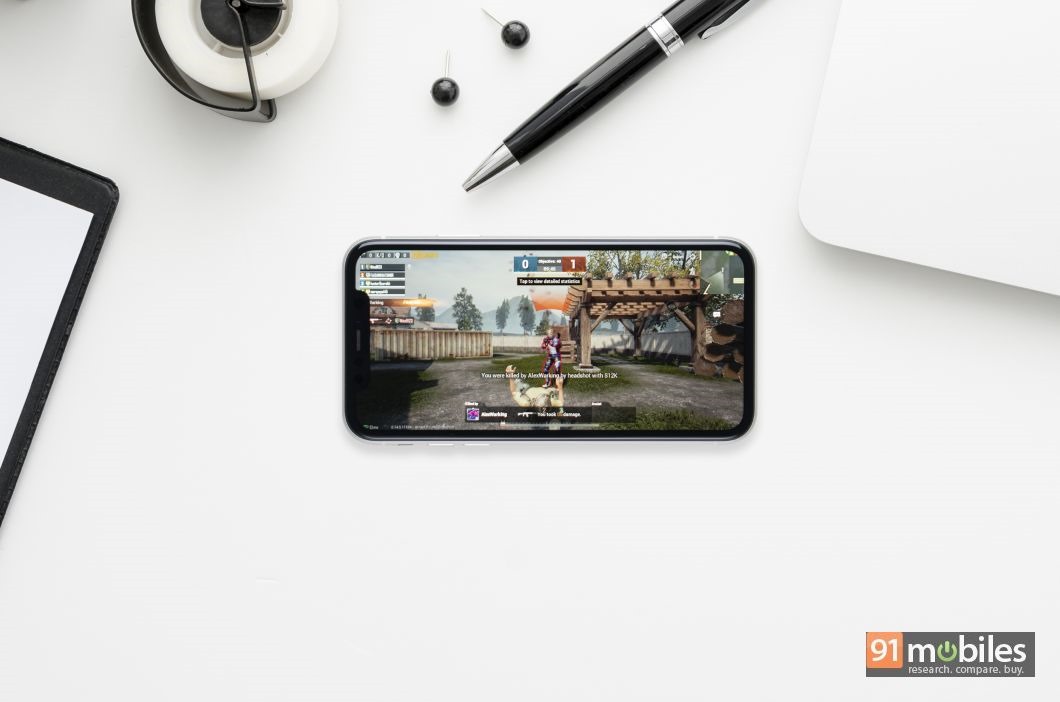 The Apple iPhone 11 comes in three storage options of 64GB, 128GB or 1256B. As usual, you can't expand it further, so you must make a conscious decision while purchasing the smartphone, if you want to avoid regretting it later.
While there's no headphone socket on the iPhone 11, its speakers come with Dolby Atmos technology, ensuring that the output is loud and crisp too.
For connectivity, Apple's newest offering comes with all the latest technologies, including Wi-Fi 6. There's also a new U1 chip for Ultra wideband technology, which helps in pinpointing the location in a more accurate manner. Currently, the brand is using it for sharing files easily via Airdrop by simply pointing the device in the direction of the other iPhone, but we can expect more functionality to emerge later, and perhaps see the debut of oft-rumoured Tile-like tracker.
Battery
Capacity
: 3110 mAH, Li-ion, Non removable
One of the biggest highlights of the iPhone XR was its amazing battery life. Thanks to HD+ resolution and 2,942mAh capacity, the device easily outlasted its siblings. So the hopes were certainly high with its successor, especially after Apple's claim that the iPhone 11's battery lasts an hour longer than its previous avatar.
So does that translate into real life as well? I certainly concur with the number as the device does manage to last more than the XR, thanks to a slightly bigger cell rated at 3,110mAh. Even with heavy usage of streaming videos or podcasts off 4G, location being on all the time, playing games for 20 to 30 minutes and even enabling Wi-Fi hotspot for a bit, the handset managed to have some juice left towards the end of the day.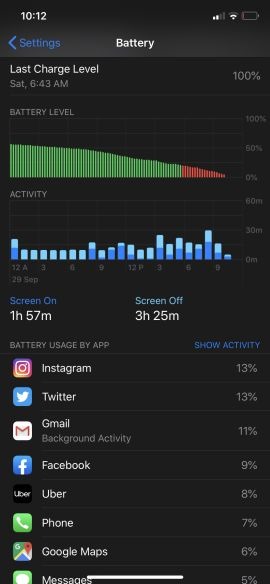 Disappointingly however, even though the iPhone 11 supports 18W charging, Apple has bundled the 5W adapter in the box. That means, fuelling it to 100 percent levels from zero takes around four hours. Considering the competition is far ahead and even the iPhone Pro duo ship with 18W chargers, it seems the Cupertino brand is short-changing consumers.
For reference, the 18W adapter takes an hour and 40 minutes to juice up the iPhone 11 Pro fully, which comes with a similar battery capacity of 3,190mAh. The phone also supports wireless charging at 7.5W.
iOS 13
We've already covered iOS 13 update and its features, but it does deserve a special mention in the review of the iPhone 11. That's because, after several years, the software on the iPhones has received some noticeable changes along with under-the-hood improvements. Chief among them is the dark mode, which is easily among my favourite implementations of the said feature in smartphones. While the IPS tech on the handset might not take advantage of battery efficiency with the dark mode, it makes using the handset a delight and you'd see it across the operating system. Another useful functionality is swipe to type, which means that you no longer need to download a third-party keyboard like Gboard to type quickly. Worth mentioning that while the iOS 13 was riddled with bugs, the brand has been quick to issue updates to fix them.
Apple has been a staunch proponent of privacy controls, and hence it's no surprise to see it updating the location permissions for apps. Now you will receive a notification if the app is using the location in the background, letting you decide whether you want to give the particular app the access or not.
Competition
Now here's where things get interesting, and it's not a black-and-white answer. While there's no doubt that Apple kickstarted the smartphone revolution, they have become a commodity now, which means that you can get a good, well-rounded handset even in the budget segment. But if you're considering iPhone 11, here's how it compares with other options:
Apple iPhone 11 vs iPhone 11 Pro / Pro Max
If you've been following the review closely, then you know how these devices differ. Apart from design differences and lack of a camera on the affordable model, the biggest distinguishing factor is display. Now if you're looking for a compact smartphone (since the iPhone 11 may not be single-hand friendly for many people) or looking for a better screen, the 11 Pro or Pro Max would serve your needs better.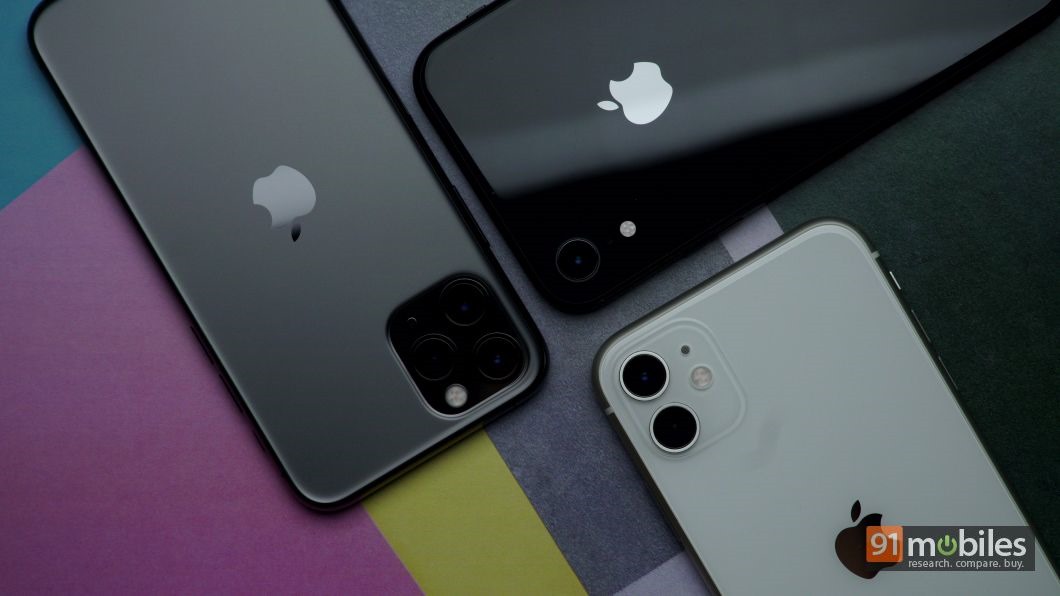 Apple iPhone 11 vs iPhone XR
Earlier this week, the iPhone XR was available for a mouth-watering price of ~Rs 40k (even lower, if you combine various bank offers), and at this price it's difficult to argue against the value proposition it offers. However, currently it's available for Rs 45,000 and unless you don't value camera performance, I reckon the iPhone 11 is a better phone. If however you already own the iPhone XR, then you should hold out on upgrading this year.
Apple iPhone 11 vs Samsung Galaxy Note 10 / Note 10+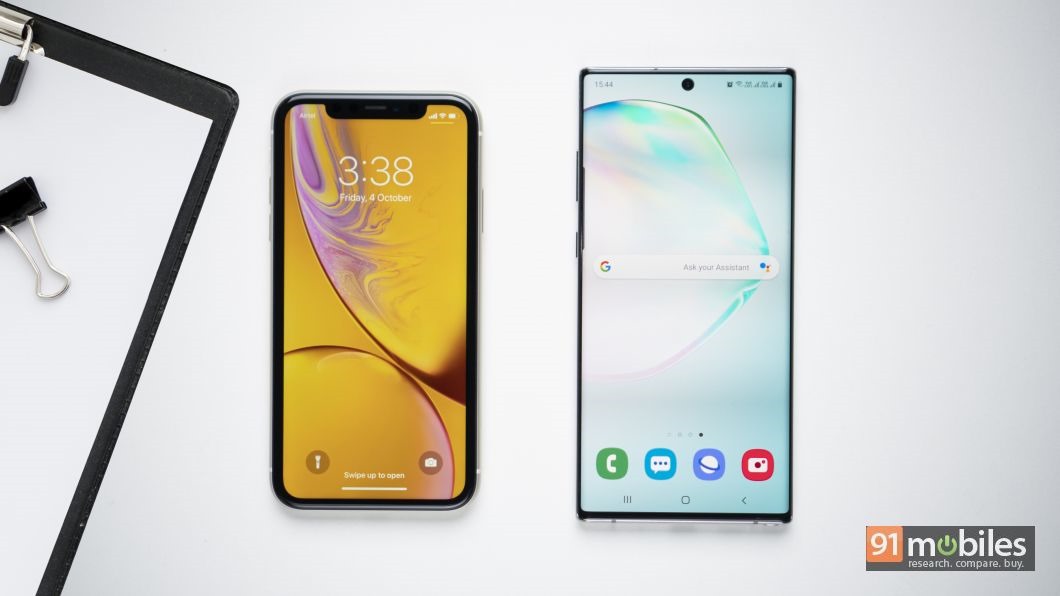 Apart from the spec-based differences, the calling card of the Note 10 lineup (review) is the S Pen. So if you think you have a use case for the S Pen, go for Samsung's offering. Additionally, the Note 10 devices sport better displays as well.
Apple iPhone 11 vs Huawei P30 Pro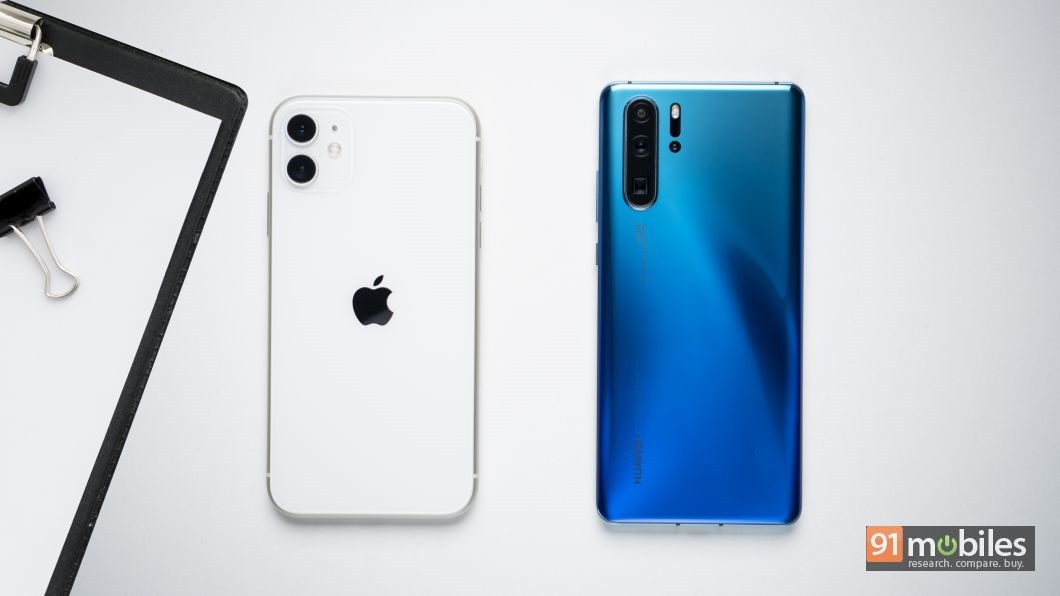 Now this is an interesting comparison as Huawei has been able to usurp biggies with its camera prowess. The forthcoming Mate 30 Pro might take that a step ahead, but the P30 Pro (review) is a capable smartphone too. And in case you're looking to buy a solid Android phone, it's hard to overlook this one. Between the iPhone 11 and P30 Pro, it depends if you're looking for user experience or a loaded-to-the-gills handset.
Apple iPhone 11 vs OnePlus 7 Pro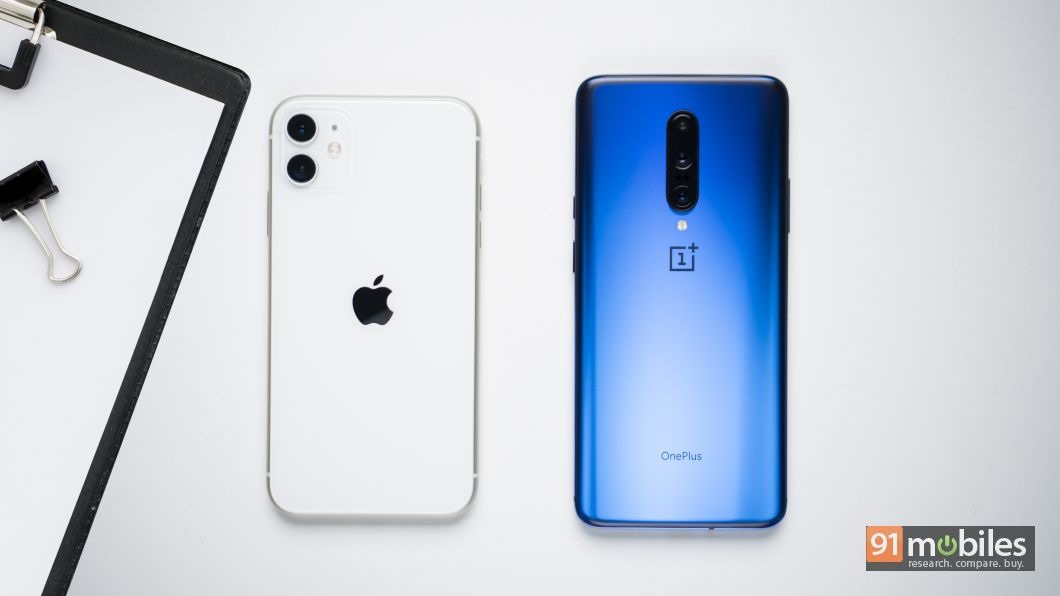 As mentioned in my iPhone XR vs OnePlus 7T comparison, both Apple and OnePlus devices are built on the same premises of offering a good user experience, and hence it's difficult to choose between them. The fact that the OnePlus 7 Pro (review) is priced cheaper while offering better screen-to-body ratio as well as sharper and smoother display also makes it quite compelling. But while OnePlus has a solid track record when it comes to software updates, Apple has an even better one… so if you're looking for longevity for your purchase, your decision should be easy.
Bottomline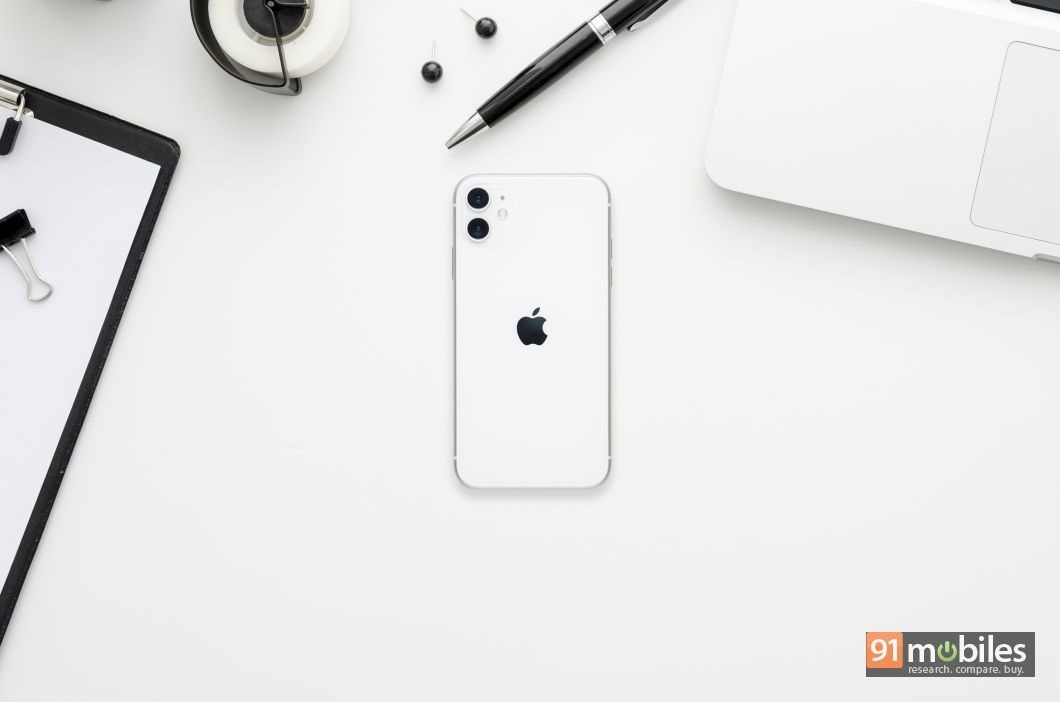 So who is the iPhone 11 for? Well, if you're just looking for a capable smartphone and don't have any issues with Android, then there are better, more affordable options out there. If however, you are looking to buy an iPhone in particular and don't want to go for older devices in the lineup as they miss out on quite a few features, I think the iPhone 11 should be your choice. Unless you are a display nerd or looking for a compact option… in which case the iPhone 11 Pro is a better, albeit pricey option. With that said, if you own the iPhone XR or iPhone X for that matter, I'd suggest to wait for the 2020 iPhones as they are expected to come with overhauled designs among other upgrades.
PFA – Updated HTML for Zest

Why pay in full when you get EMIs with 0% interest?
Buy Apple iPhone 11 now and pay later in flexible EMIs!
No application fee
No down payment required
No pre-closure fee
Editor's rating: 4 / 5
Pros
Impressive cameras
Super-fast performance
Incredible battery life
Powerful stereo speakers
iOS 13 brings much-needed features such as dark mode
Cons
720p display with an unsightly notch
Ships with a 5W charger
The wide-angle camera misses out on autofocus and night mode
Doesn't offer enough to warrant an upgrade from the iPhone XR or iPhone X
Photos by Raj Rout
Competitors for Apple iPhone XI
| | | |
| --- | --- | --- |
| Apple iPhone XI | vs | Apple iPhone XR |
| | | |
| --- | --- | --- |
| Apple iPhone XI | vs | OnePlus 7 Pro |