"While Gartner's report shows a rather slim 1.5 percent growth in PC shipments globally, IDC's report suggests a 4.7 percent growth here."
IDC and Gartner have released their respective quarterly PC shipment numbers for Q2 2019, and the resultant market situation for each of them seems rather different. Beginning with Gartner, the firm states slightly more conservative numbers, quoting 62.97 million PCs shipped between April and June 2019 — an increase of 1.5 percent from the 62.04 million PCs shipped for the same quarter a year ago. On the other hand, IDC states that a total of 64.86 million PCs were shipped in Q2 2019, up by 4.5 percent from the 61.93 million PCs that it reported in Q2 2018.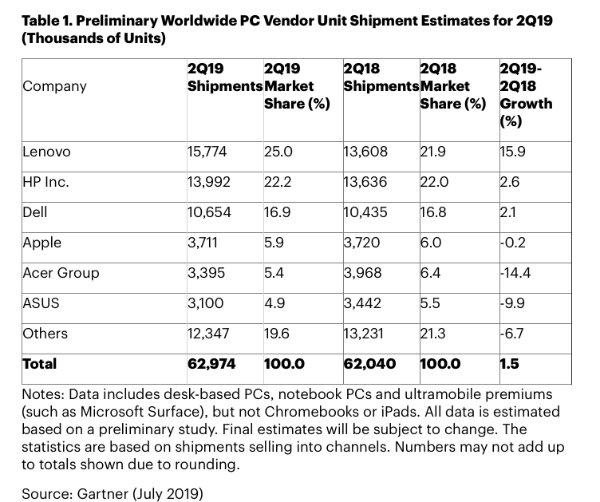 It is important to note the disparity for multiple reasons. For one, both the market research firms quote PC shipment numbers, or the total number of devices that were shipped by companies across the world for the said period. As a result, actual sales figures are most likely different from what the shipment figures show, which in turn would reflect on whether global PC sales have actually increased or declined. The second factor here is that during the second quarter, many of the PC vendors may have actually shipped a surplus of PCs to retailers across the world to account for any trade crisis that may rise out of the still-ongoing trade policy crisis between USA and China, which in turn is also believed to have a domino effect on other markets globally.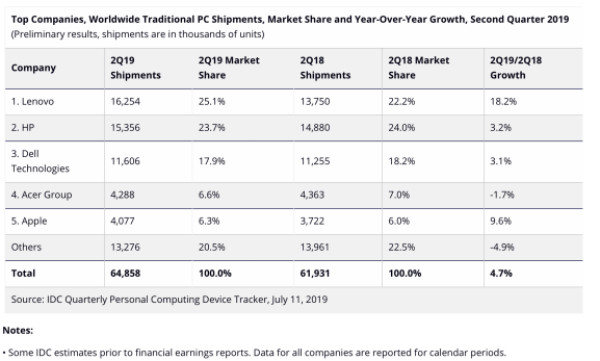 It is the second factor that further compounds the different in the market statistics. Shipments and sales usually follow a similar market pattern, given that all vendors ship units depending on market demand. However, if the trade war is to be taken into account, and if vendors did indeed ship surplus units to account for a potential future crunch, then Gartner's shipment numbers actually suggest that the total growth of PC sales globally may not be in the positive trend, and instead have remained either stagnant or gone through a slight decline. However, IDC's numbers suggest that even if the surplus shipment is accounted for, sales of PCs globally have indeed shown a positive trend through Q2 2019, as a result both firms seem to be painting completely different market scenarios.
While the absolute numbers are slightly different, both Gartner and IDC rank Lenovo as the top player in the PC segment, with market share of 25 and 25.1 percent, respectively. HP has ranked second, with claimed market share of 22.2 and 23.7 percent, respectively. Dell ranks third in the statistics, with claimed market share of 16.9 percent and 17.9 percent respectively. For Apple, while Gartner ranks it at fourth with 3.71 million PCs shipped and 5.9 percent market share, IDC claims that Apple is actually the fifth highest shipping vendor, but with higher shipment and market share of 4.07 million PCs and 6.3 percent share. Acer ranks fifth in Gartner's readings with 5.4 percent market share, while it stands fourth in IDC's with 6.6 percent share. ASUS, on the other hand, stands sixth in Gartner's data with 4.9 percent market share, while its numbers have not been noted down in IDC's data.
While slight disparity of data is prevalent among different market research firms, it is difficult to conclusively gather knowledge of the real market trend in global PC shipments and sales when Gartner and IDC's market data are tallied together. Nevertheless, it does show that the PC industry is not on a steep path of decline, and the advent of improved software and new innovation in the laptop industry, coupled with high-performance chips across the belt for desktops, laptops, convertibles and hybrids may be fuelling new life into this segment, even though the resurgence may not be long-lived.