"The Snapdragon 865 chipset scored higher than the Apple A12 Bionic in the multi-core test, but couldn't beat the single-core performance"
It is no secret that Qualcomm has already started to manufacture and test its upcoming flagship chipset, the Snapdragon 865. This chipset has been in the rumours for a while now and is built using the latest 7nm ultra-violet (EUV) process. A report in June stated that the Snapdragon 865 chipset could be manufactured by Samsung, which also recently announced the Exynos 9825 that is built using the 7nm EUV process. Now, the Snapdragon 865 has appeared on Geekbench and revealed its benchmarking scores.
The scores are quite good and not really a surprise. The Snapdragon 865 is much more powerful than the Snapdragon 855 and even the gaming focused Snapdragon 855 Plus. The upcoming processor scored higher in both single-core and multi-core tests. In the single-core test, the Snapdragon 865 SoC scored 4160 points, which is much higher than the 3600 points that the Snapdragon 855 and 855 Plus scored. However, the chipset still can't beat the A12 Bionic chipset from Apple. The A12 Bionic scored about 4700 points, which is currently the highest single-core score. This is followed by the Exynos 9825 processor from Samsung, which scored 4500 points. The Apple A12 Bionic is used on the latest iPhone XS and XR smartphones. The Exynos 9825 is present on the recently launched Galaxy Note 10 series.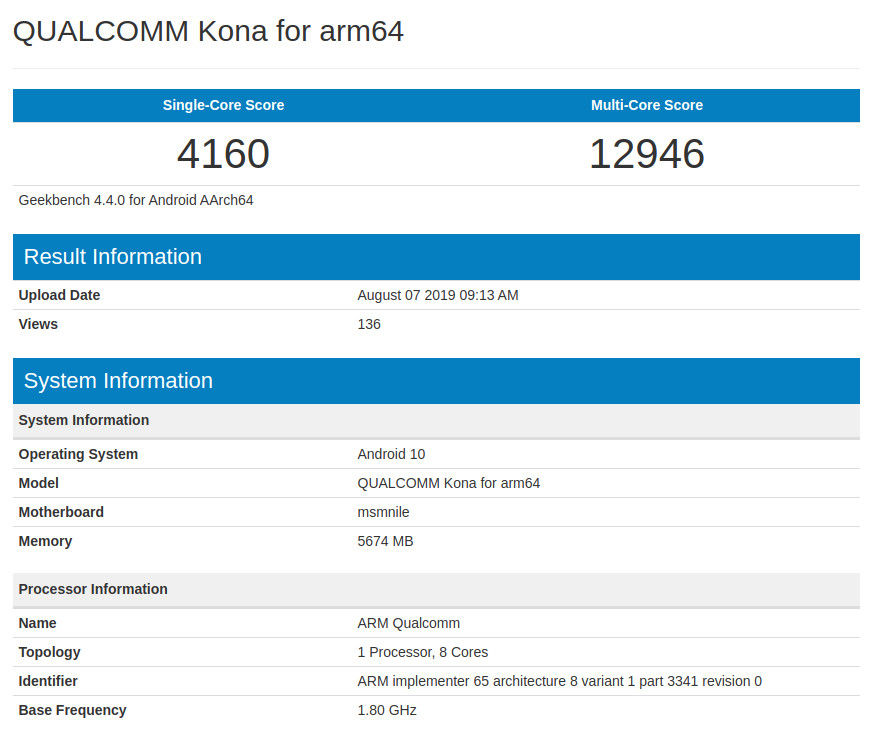 Snapdragon 865 spotted on Geekbench running on a smartphone with Android Q and 6GB RAM.
Coming to the multi-core score, the Snapdragon 865 scored 12946. Again, the chipset easily beat the Snapdragon 855 Plus, which scored about 11200 points. It is also much higher than the Samsung Exynos 9825, which scored 10500. The chipset also performs better than the Apple A12 Bionic SoC in the multi-core test.
Snapdragon 865 chipset is internally known as 'Kona', which is the name that appears on the Geekbench listing. The listing also shows that the chipset is being tested on a device with 6GB RAM. The device is running Android Q operating system. The Snapdragon 865 should be announced by the end of this year, probably in December. Qualcomm will reportedly launch two variants of the Snapdragon 865, one with a 5G modem and one without. It is also tipped to support LPDDR5X RAM and UFS 3.0 storage.