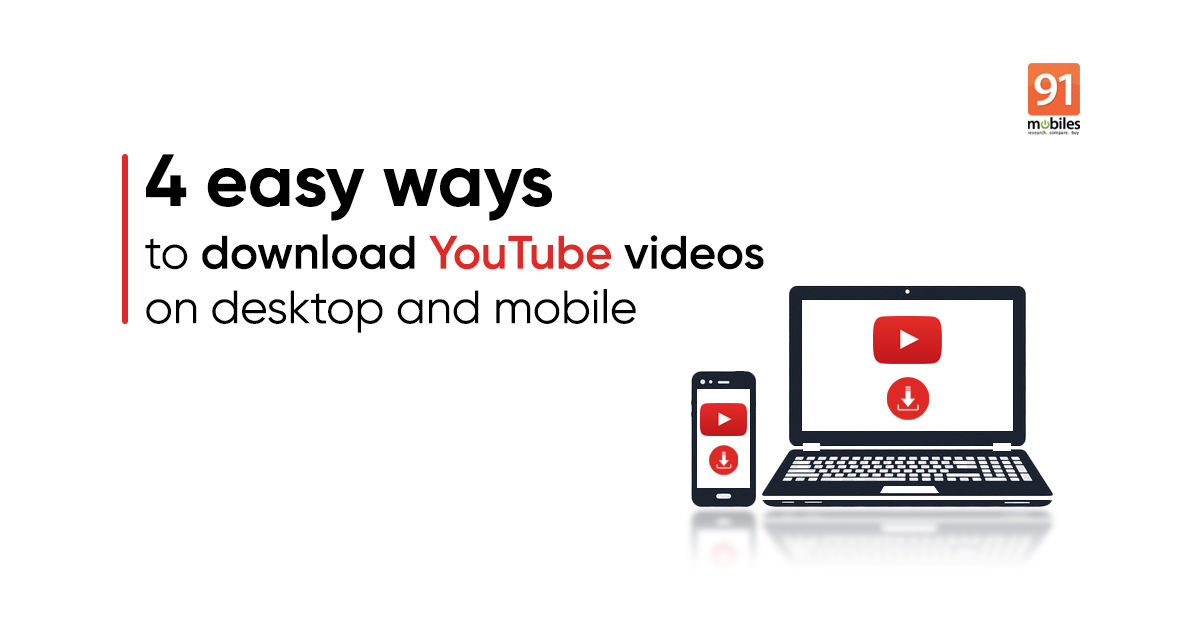 People living in an area with a crappy internet connection can attest to the frustration of playing stuttering YouTube videos. Also, re-watching a YouTube video drains precious data from your plan. To fix that, YouTube launched offline viewing back in 2014 that allows users to save YouTube videos on their device for later consumption. However, the feature does not apply to all videos on the platform and is limited to smartphones. Additionally, the saved YouTube videos work only on the YouTube app and disappear after 30 days. YouTube's offline feature also doesn't cover desktop users, which is why a lot of people look for tools to download YouTube videos online. We'll be talking about some of those tools here in the article, so without any further ado, here's a quick guide to how you can download YouTube videos for free on your device.
YouTube videos download format

You can download YouTube videos online in MP4, 3GP, AVI and MOV formats. The MP4 works on pretty much every device out there, while MOV and AVI respectively are Apple and Microsoft's video format. The 3GP format has low video quality and considered apt for small-screened mobile phones.
Read more: How to download YouTube videos on your mobile phone for offline viewing
How to save or download YouTube videos online
If you're not familiar with YouTube's offline view feature, here's what you need to know. As the name would suggest, the feature allows Android and iOS users to save YouTube videos for offline viewing. You can save/ download YouTube videos in several resolutions, going up to full-HD. These videos can be downloaded via mobile data or Wi-Fi network.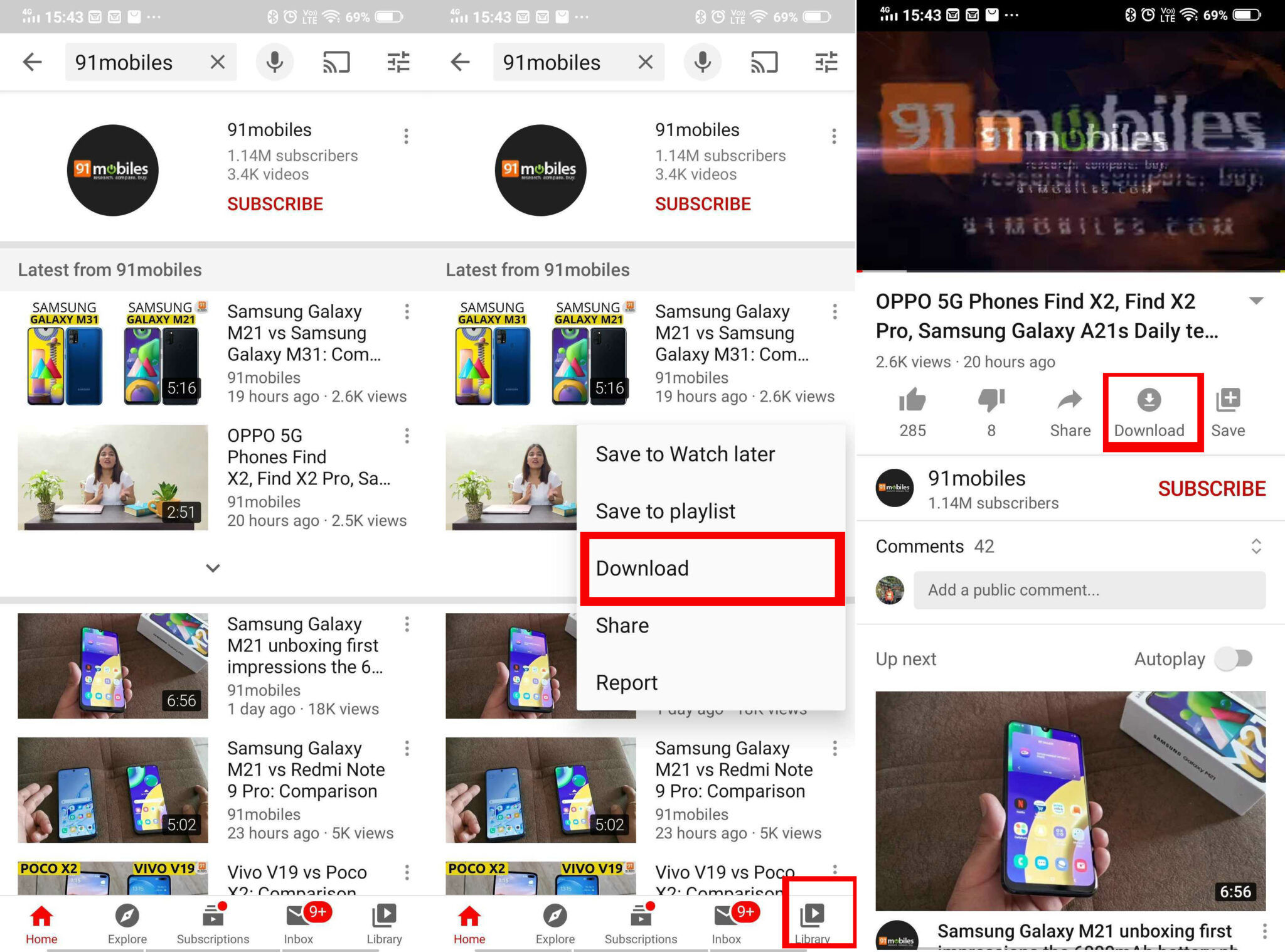 In order to download YouTube videos online using the offline view feature, open the YouTube app and search for the video you wish to download.

You can tap on the three-dot symbol next to the video search results and select the 'Download' option. Alternatively, if you are playing the video, you can tap on the 'Download' button (down arrow) below the video title.

Before the YouTube video is downloaded on your mobile phone, you'll be asked to select the video quality. The video will be available from 144p up to 1080p, or whatever is the highest resolution it is in.

Once the download is complete, you'll see a "View" button at the bottom. Tap on it and you'll be taken to offline YouTube downloads page within the app.

You can also access your YouTube's video download list by tapping on the 'Library' option – usually placed in the bottom right corner of the screen.

From the following screen, select 'Downloads' to see all the videos saved on your device for offline viewing.

You can delete the videos by tapping on the three-dots icon corresponding to the video and selecting 'Delete from the downloads' option in the window that appears.
The steps are the same for both Android and iOS users. That said, as stated above, there are a few limitations with YouTube's offline view feature such as the inability to download all videos and no third-party app support.
How to download YouTube videos using browser
This method will work on both mobiles and laptop/ PC and won't require you to download a third-party app. You don't have to update the videos periodically, like you do with YouTube offline feature, to continue watching them. However, mobile users will have to use their phone's browsers to download YouTube videos using this method. Now that we have gotten you up to speed, here's how you download the YouTube videos: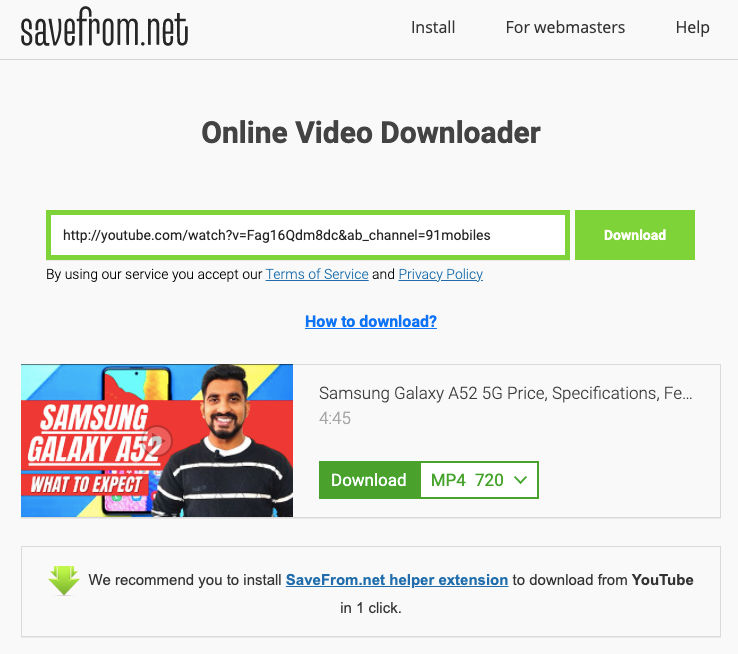 Go to the video you want to download using the browser on your mobile phone or desktop
Select the video's URL and add the prefix 'ss' (without the quotes) before YouTube
The new link should take you to a different site which, after processing the video, will let you download it in your preferred resolution
Users can also visit savefrom.net and paste the URL of the video they wish to download there. Post-processing the video file, users will be presented with a bunch of video quality options which they can choose to download the video
Read more: YouTube to MP3 converter: How to download MP3 from YouTube videos
Is it legal to download YouTube videos through third-party software/ apps?

Well, as stated under YouTube's guidelines, the videos published on the website can only be used for streaming. Not to mention that downloading videos for offline/Ad-free playback is depriving content creators from making money through YouTube's AdSense. However, if you MUST download videos, follow the above steps.
How to download YouTube video on Android phone using app
This was covered on our separate post, but for your benefit, we'll briefly discuss the ways to download YouTube video on Android phone here as well. Android phone users can download YouTube videos on mobile using a third-party app, called TubeMate. The app, like many other third-party YouTube video downloading apps, isn't available in Google's Play Store and Apple's App Store. However, Android users can still side-load TubeMate using an APK file. The feature is not available for iPhone users as iOS forbids users to side-load third-party apps.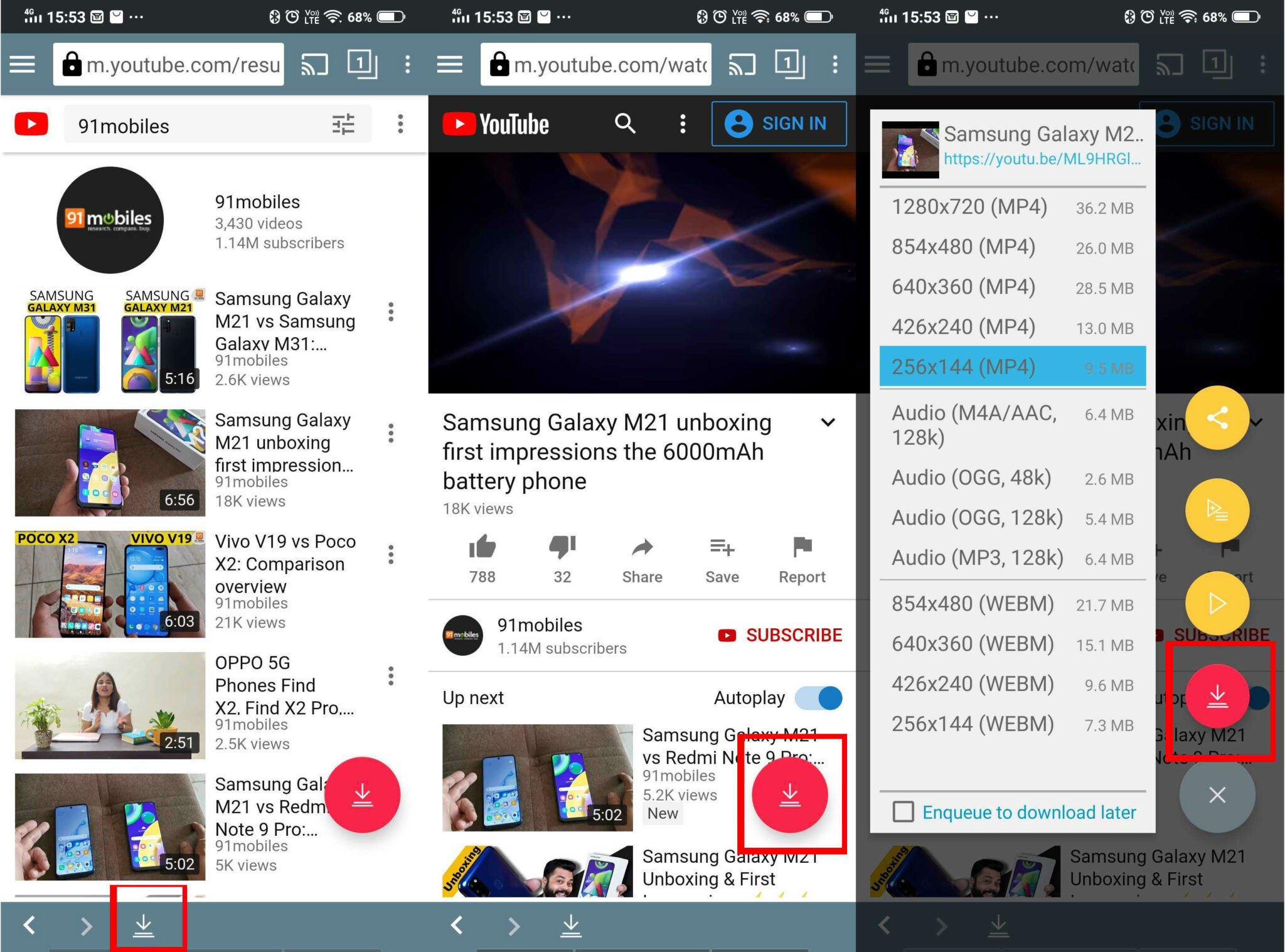 Download the

TubeMate APK

from the

official website

and install it on your Android phone.
The installation will require you to toggle the 'Install unknown apps' option in Settings.
Next, open the app, agree to 'Terms of use', give the requisite permissions, and jump to the home screen.
You'll get a short tutorial on how to use TubeMate.
Once you're through that, search the video you wish to download and open it.
Tap on the red download button (downward arrow icon) in the bottom right. This will

open a window where you can choose the video resolution. Select the resolution, and then tap on the

Download

button (again a red downward icon) to save the video.

If "Sometimes '*' marked videos might not be downloadable" message is flashing on your screen, download and install MP3 Video Converter from the Google Play Store.
After that, you'll be able to download any YouTube video to your mobile phone whether it's private or public.
To manage the downloads library, tap on the downward arrow icon from the bottom tray. The following screen will show you the status of downloads and the list of YouTube videos downloaded on your mobile phone.
The downloaded videos will also appear on your phone's gallery
How to download YouTube videos on laptop/ PC using app
To download YouTube video on laptop/ PC, use 4K Video Downloader. It's among the best third-party applications out there as it supports multiple platforms — Windows, Mac, and Linux — and offers quality options, ranging from 240p to 2K.
Here's how to use 4K Video Downloader to download YouTube videos:
Visit

4kdownload.com

to download 4K Video Downloader, and then install it
Copy the URL of the YouTube video you wish to download
Open 4K Video Downloader and

p

aste the link
The app will pull the video link from clipboard. Pick the video quality you desire and click

'

Download'
That's it! So these are some of the ways with which you can download YouTube videos on laptop/ PC and mobile phone for offline viewing. The videos downloaded via third-party apps/ software can be played on any media player, and more importantly, share them as files on messaging apps.