Highlights
The customer claims that the Realme XT unit exploded while charging overnight
Realme says that external force was applied to the unit, which punctured the battery
Realme XT has been a popular choice for users in the affordable segment of the Indian smartphone market as the handset offers impressive specifications for the price. Now, a Realme XT user has claimed that his unit exploded within a day of purchasing it. This blast occurred while the phone was being charged using the official adaptor that came in the box. While the user has claimed inaction from the company's side, the brand has told 91mobiles that external force was applied to the Realme XT unit and its battery caught fire due a puncture from outside.

The user, Roshan Singh, claims that he tried to reach out to the brand's service centre by sharing the pictures of the burnt unit, but the brand's representatives said that he had applied external force on the unit just by looking at the pictures. Singh says that the brand reached out to him after he complained on Twitter, and said that it will take action on the incident. However, no action has been taken till now to resolve the matter. Singh has shared his bill copy and images of the burnt smartphone.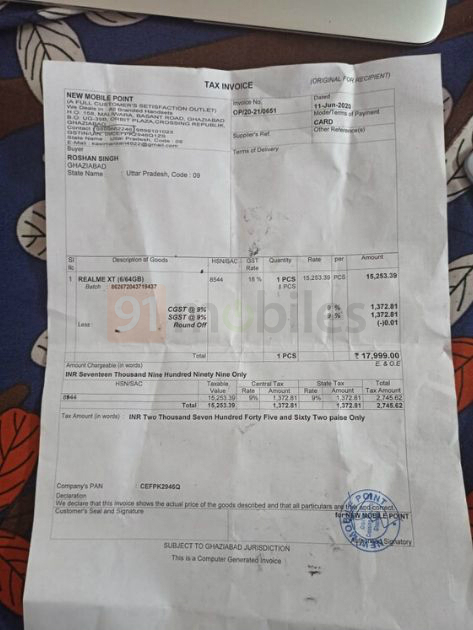 The Realme team in an official statement on the matter said: "For us, one of the key pillars is product quality. Every smartphone manufactured by Realme goes through a number of stringent quality and durability checks as customer safety is of utmost importance for us. As per our investigation, we have learnt that the smartphone was damaged due to external force. The user's smartphone battery caught fire as the smartphone was punctured from outside."
As per the company's findings, the Realme XT unit was broken due to very heavy force applied by an external object, which caused battery deformation as seen in images one and two. Furthermore, the company says that there is no burnt mark on the device assembly point where the battery is fixed as shown in image four.
This is, of course, not the first time we have heard of a smartphone exploding due to battery-related issues. The Samsung Galaxy Note 7 blast was the biggest headline-maker of this kind, but phones by brands such as Realme, Xiaomi, Jio, and even Apple have suffered battery explosions in the past.
Also read: 7 reasons smartphones can explode (and how to stop that from happening)