"If you're looking for a smartphone that goes beyond the hardware and makes your life easier, then you can't go wrong with the second-gen Moto X"
The first-gen Moto X was the first device to launch after Google's acquisition of Motorola, introduced back in August last year. But the smartphone was remarkable for many other reasons than just this one, since it tread the path no other flagships dared to, even now. It bucked the trend of focussing on core specs and aimed at offering a superior user experience. Features such as the personalisation aspect, Touchless Control, Active Display and more were unheard of before the original Moto X. The device definitely succeeded in achieving its objective, as our review will tell you. The phone landed in our shores in March this year at a competitive price tag of Rs 23,999 (Rs 25,999 for the wood-finish variants) – much lower than its asking price in the US. However, even then, the Moto X wasn't able to top the sales charts.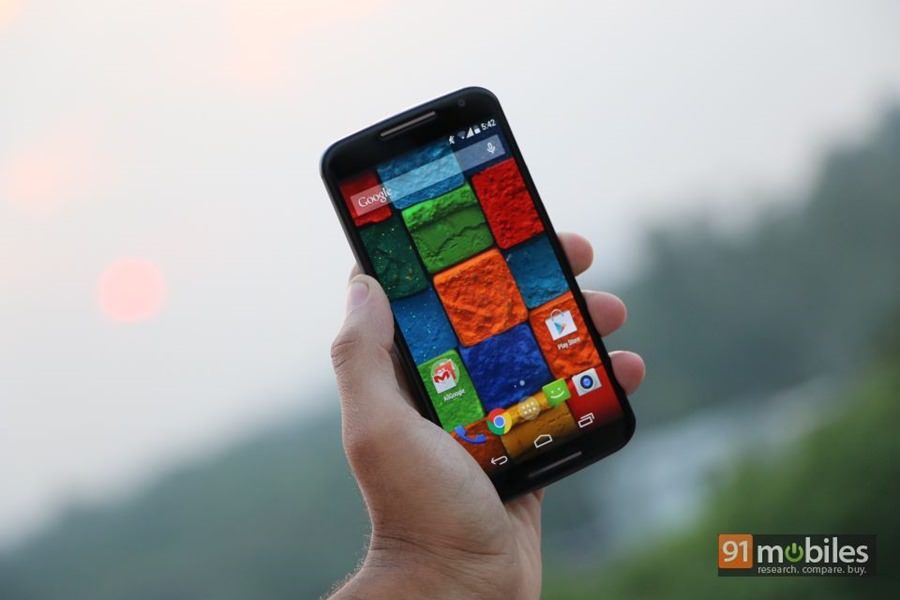 Cut to more than a year later, when a lot has changed – Motorola is no longer owned by the search titan (it has been acquired by Lenovo, but the deal is awaiting approval from regulatory authorities) and the brand's other offerings (the original Moto G and Moto E) have achieved massive success. Now, the company is having a second go at its flagship smartphone, monikered as the Moto X again, though we'll be referring to it as the new Moto X or the Moto X (2nd-gen). Having learnt from its mistakes, Motorola has gone back to the drawing board for its latest flagship, while keeping the things that made its predecessor unique. So, has it been successful in its pursuit? Read on to find out.
Specs at a glance
Measures 140.8 x 72.4mm
Thickness of 3.8 – 9.9mm
Weighs 144 grams
5.2-inch display sporting a resolution of 1,920 x 1,080 pixels (~423ppi)
Motorola Mobile Computing System consisting of a 2.5GHz quad-core Qualcomm Snapdragon 801 processor, Adreno 330 GPU, Natural language processor and Contextual computing processor
2GB RAM
13-megapixel primary camera supplemented by a ring flash with two LEDs
2-megapixel front camera
3G support (nano-SIM)
Wi-Fi ac (dual-band capable), Bluetooth 4.0 LE, NFC and GPS
2,300mAh battery
Android 4.4.4 KitKat
Screams premium right from the get-go
Last year's Moto X was hailed as one of the best Android smartphones ideal for one-handed usage. The major reason for it was its handy 4.7-inch display panel. But this time around, Motorola has chosen to go with a roomier screen size of 5.2-inches for the new Moto X. This simply means that the new device will not be suitable for using with one hands since it's much taller and wider, on paper at least.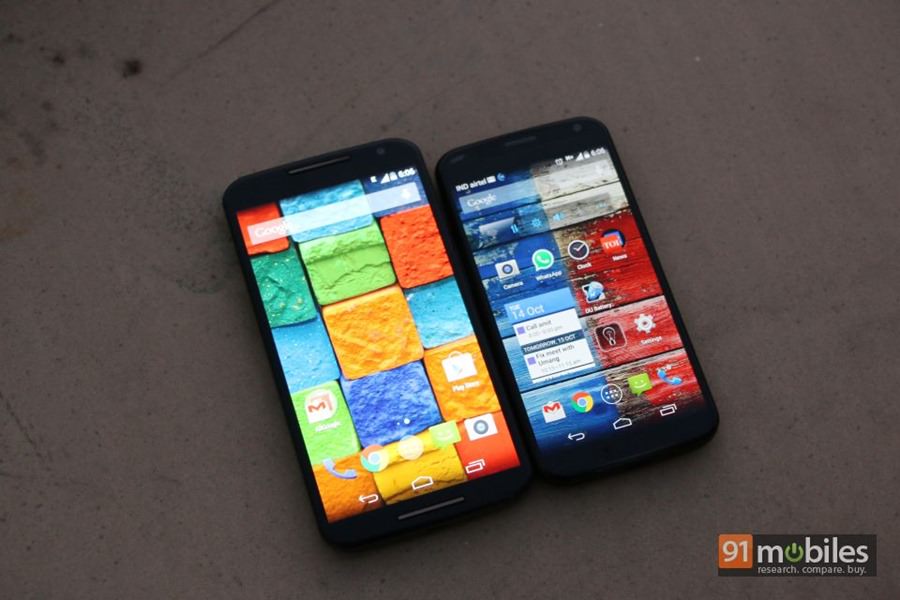 The in-hand usage experience however, is much different as Motorola has managed to squeeze in the phablet-class display in a frame that's much smaller in size. Words might not justify this statement, but here's a side-by-side comparison of the second-gen Moto X with the Sony Xperia Z3 (review | FAQs). While both the devices sport the same screen size of 5.2-inches, the Moto X manages to be smaller and thinner (if you consider the curved profile, although at its maximum point, it bears a thickness of 10mm compared to 7.3mm of the Z3). It also weighs slightly lower at 144 grams.
In fact, forget the Xperia Z3, the Moto X (2nd-gen) features similar dimensions as its sibling, the new Moto G (review | FAQs). It's notable considering that the Moto G features a slightly smaller display panel of 5-inches.
This is astounding and Motorola's designers must be given credit for pulling this off as the display has extremely narrow bezels at the sides, so much so that it looks like an edge-to-edge display. Another thing that catches your attention at the front is the metal bars above and below the display panel. However, only the bottom bar is a speaker unlike its sibling, which sports stereo speakers. Furthermore, these metal bars have slightly raised profiles, so if you keep the phone face down, then they don't let the display come in contact with the surface. While the bottom is free of any other elements (except an IR LED) since the phone has software-based navigation keys, the portion above is filled up with a secondary snapper, proximity and ambient light sensors along with a couple of IR LED's. Thanks to our black review unit, all of this is hidden quite well, though they're visible in the white variant of the new Moto X.
While HTC may be the only manufacturer to go with metallic construction for its flagship offerings (apart from Apple), many other companies are taking steps towards metal as a building material. The second-gen Moto X features a metallic band around its edges that not only gives it a premium feel, but also makes it quite sturdy. The edges also serve a second purpose, doubling up as antenna ensuring that the phablet always offers good network connectivity.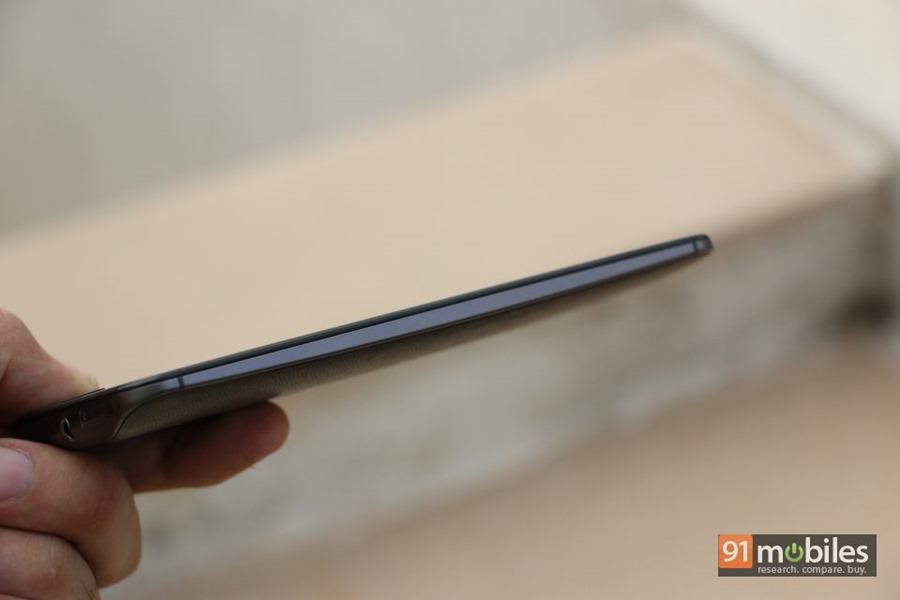 In terms of placement of buttons, everything is available on the right spine with the power key followed by the volume rocker. These buttons are also chiselled from metal and offer good tactile feedback when pressed. The power button also has symmetrical textured lines which makes it easier to distinguish from the volume keys. On the top, lies a standard audio port, whereas the micro-USB port is available bang opposite on the bottom. The top also houses an ejectable nano-SIM tray.
Flip the device over and you'll be greeted with quite a lot of similarities with the original Moto X. The curved rear panel houses the Motorola logo, which is now embossed on a much bigger dimple and is surrounded by a metallic circle. Above that, the main camera lens is placed, surrounded by a ring flash. There's nothing else at the back except a noise-cancellation microphone towards the bottom.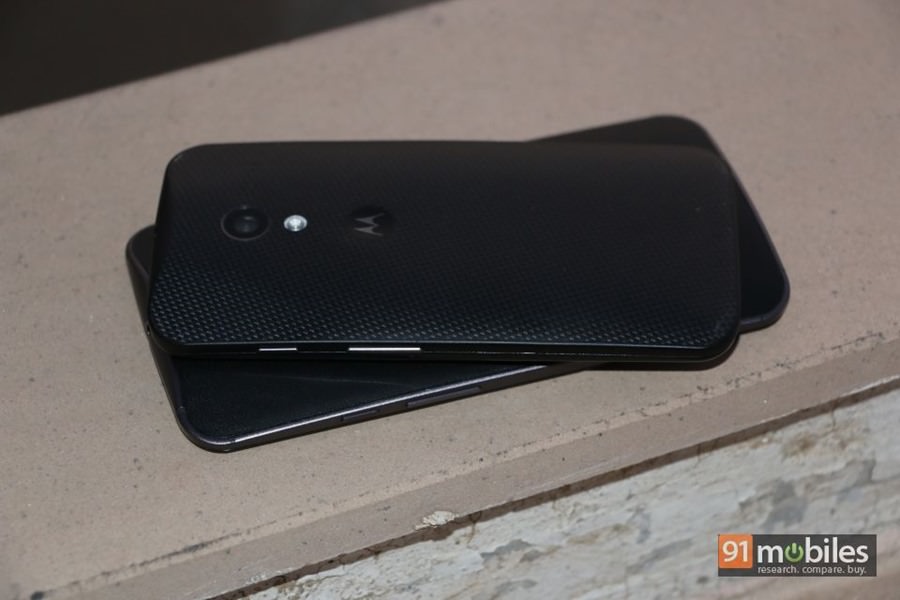 Although we talked about the design elements of the back panel of the Moto X (2nd-gen), what you might have missed is its texture. Move over faux-leather (a trend started by numero uno manufacturer Samsung) as Motorola's flagship features an actual leather texture at its rear. While our review unit sports leather finish, the device is also available in wood finish at the back (similar to its predecessor) and both of these variants cost slightly more than the standard plastic model.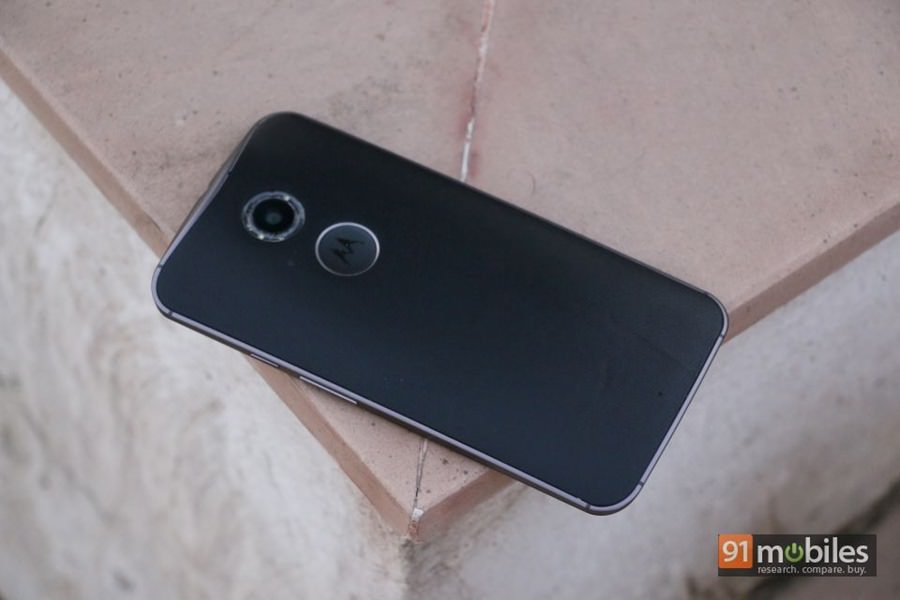 However, if you ask us, the leather texture was kind of underwhelming in looks, but does offer superb feel in the hands. Moreover, the texture doesn't let the device get slippery. But let us offer you a word of caution as well – handle it with care and don't keep the device in the same pocket as your keys since the leather back picks up scratches rather easily.
Summing up all the design elements together, the new Moto X comes across as a really well-designed smartphone. While for some the device might be a tad too large, we felt at ease with its size as it snugly fits in our hands. We didn't find any problems with single-hand usage as well, though those with small hands might find it slightly difficult. The curved rear panel also makes it very ergonomic to hold. We also like the idea of dimple at the back as it was the perfect position to rest our forefinger while holding it.
With such design, we can go as far as to say that the most stylish Android smartphone title held by the HTC One (M8) finally has a challenge. While it's a matter of personal liking, we prefer the new Moto X against the One M8 since it offers better handling, though the latter still scores highly on the style aspect. The new Moto X also gets an edge by being spill-proof thanks to its nano-coating.
Keeps your eyes glued
While you may dislike that Motorola has the upgraded the screen size to 5.2-inches in the latest-gen Moto X since it affects its one-hand usage, you can't deny the fact that such a large display is ideal for entertainment on the go. The screen resolution has also been bumped to 1080p resulting in a rich pixel density of 423ppi. With such specs, the device sits along with most Android flagships such as the Samsung Galaxy S5 (review | cheatsheet) and HTC One (M8) (review).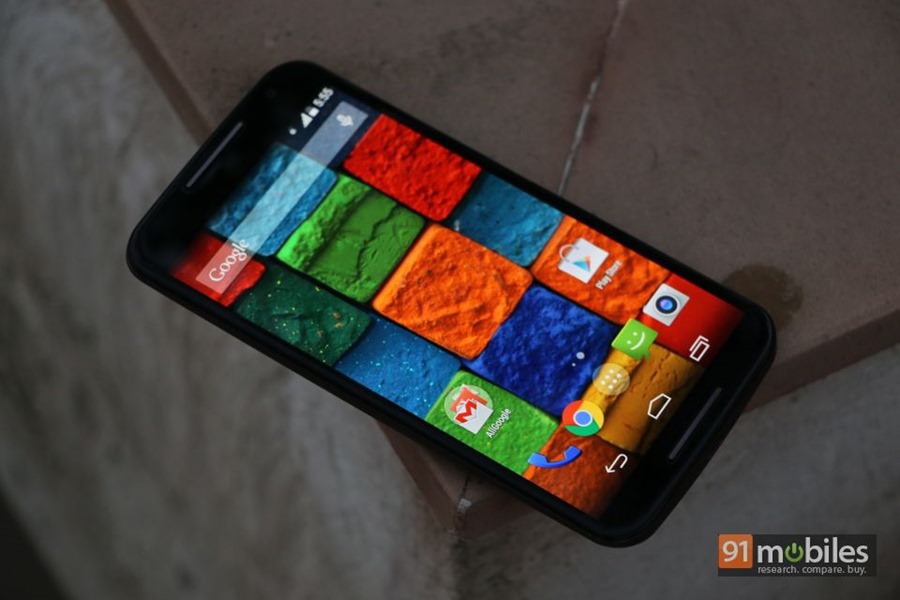 The display outputs vibrant colours and great viewing angles. The bright screen is viewable under all conditions, including direct sunlight. The text appears sharp too and blacks appear black, thanks to AMOLED technology. Protecting the display against scratches is a layer of Corning Gorilla Glass 3.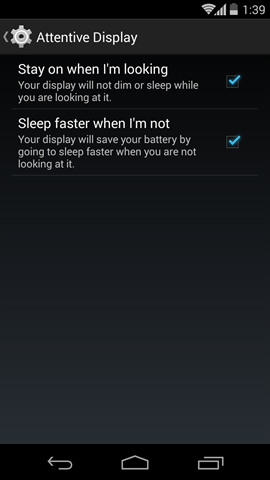 Following Samsung's footsteps, Motorola has offered a useful option called Attentive Display, which keeps the display on if it detects that you're looking at it. Similarly, if you're not looking at the new Moto X, the setting will put it automatically to sleep.
Just two flicks away from your perfect shot
A major complaint with the original Moto X was its camera performance. But Motorola has tried to make sure that's not the case with its successor. The new Moto X sports a 13-megapixel primary camera with an aperture of f/2.25. To improve low-light photographs, the device get a powerful ring flash with two LEDs on the either side. Just like the first-gen Moto X, you can activate the camera by flicking your wrist twice, which is a really useful addition, since you can access the app quickly without using the other hand.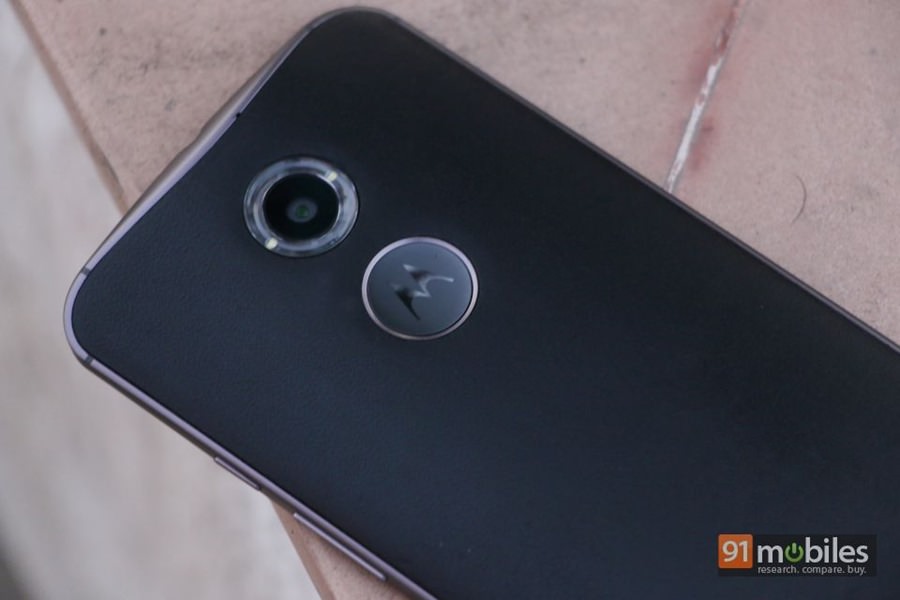 To let you focus on the scene itself, the camera app is extremely minimalistic and allow you to capture the shot by clicking anywhere on the screen. To find more settings, you can swipe from the left to get a semi-circular wheel offering you various modes like HDR and panorama. Sadly, with all this minimalism, the app foregoes the options to adjust image settings like ISO, exposure, etc. As noted in our second-gen Moto G review, it's also difficult to shift the focus wheel to another part of the frame, since more often than not, you end up capturing images in the process. We did like the ability to capture images with the volume key itself or keep pressing it for the burst mode.
The camera can shoot images in 10- or 13-megapixel resolutions based on the 16:9 or 4:3 aspect ratios. It's also able to record videos in UHD resolution (3,840 x 2,160 pixels) along with a full HD and a slow-mo full HD mode.
Sadly, all the aforesaid prowess falls short. Quality-wise, images offer ample detail, but suffer from blown-out highlights due to bright objects. While HDR mode is quite good, for some it might be too artificial. With its ring flash, night shots were quite good, though we didn't find them drastically better than conventional flashes. Take a look at few of the images captured with the smartphone (click to view them in their original resolutions).
Read more about the camera performance about the new Moto X in our camera review
At the front, the new Moto X gets a 2MP snapper which is quite good for capturing selfies or making video calls. Similar to the rear camera, the front shooter captures in aspect ratios of 4:3 or 16:9. It's able to record videos in 1080p too.
Motorola has also worked on the software part to enhance your shooting experience. With a new feature called Highlight, the camera captures the scene before and after you actually click the shot, so in case the actual image turns out blurry, or someone's eyes are shut, it will automatically suggest an alternate image. There's also a Highlight Reel feature that gives the user an option to create a short video by combining various images, similar to HTC's Zoe app.
While the 13-megapixel resolution of the primary camera isn't necessarily low, it fails to impress us in terms of pure quality, especially when compared to the competition.
24-carat Android
While all smartphone vendors highlight their custom skins on top of Android, Motorola has chosen to go the other way by offering a pure, undiluted build of Android. In fact, Motorola's vision for its devices in terms of software is quite similar to Google's Nexus series and the recently-introduced Android One initiative, since not only its devices offer stock Android, they are also amongst the first to receive updates.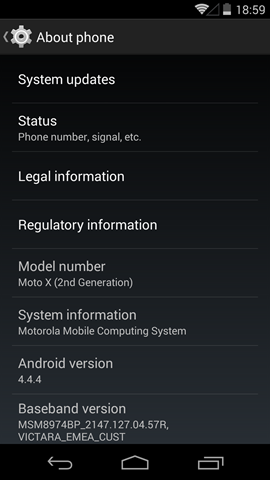 Running Android 4.4.4 KitKat, the smartphone comes with a completely stock interface, right from the lock screen and the homescreens to the notification panel and default apps. That's not to say that there aren't any apps preloaded on the device. Motorola Connect is now available as an option available in settings and allows users to mirror their notifications to the Chrome Browser as well as connect with other Motorola devices such as the Moto 360 (first impressions). With Motorola Migrate, users can easily switch from their current phone to the new Moto X since it takes care of transferring contacts, messages and files.
Another interesting feature is Spotlight Stories, which was also available in the original Moto X. Many a times, you'll notice an ant running around your homescreen and tapping on it will take you to a story called 'Buggy Night'. The story progresses as you follow the ant by rotating your smartphone, making it an interactive story-cum-game. Another story by the name 'Windy Day' follows the similar interactive setup where you have to guide a mouse towards an orange hat.
But that's not all that the device has to offer. There are many more value additions that gives the Moto X its X-factor, and we'll discussed them under the next section.
From Okay Google to Hello Moto and beyond
The banner feature of the last year's Moto X was its Touchless Control capability allowing users to use voice commands to interact with the phone even when it's locked. But there were several other features that made the original Moto X stand apart from the crowd.
To make sure that users are able to gain benefit from all such features, Motorola has combined all of them under single app dubbed Moto. When you open the app for the first time, it will give you a glimpse of all these features and show you what all is possible.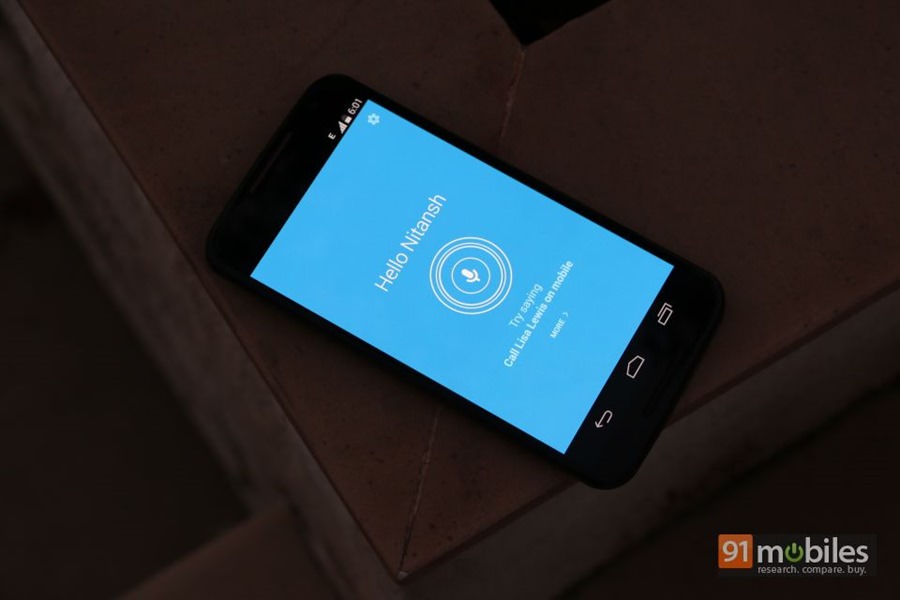 Touchless control has been rebranded to Moto Voice with the second-gen Moto X. But the feature is more than a simple name change. While earlier, you were able to activate it by saying 'Okay Google', this time there's no restriction as you can activate it with any hotword. However, make sure that the phrase is long else the smartphone will not be able to understand it.
Before discussing Moto Voice in detail, let's take a step back and understand what it exactly is. Voice commands seem to one of the best ways to interact with a mobile device hands-free so much so that all major operating systems have something of this sort, be it Apple Siri (iOS), Google Now (Android), Cortana (Windows Phone) and even BlackBerry Assistant (BB OS 10.3). However most of them don't exactly take a true hands-free approach as you have to activate them first and then say your command. The Moto X on the other hand, has an always-on listening mode that comes into action as soon as you say the trigger phrase. Helping the handset in this task is a low-power natural language processor that listens to the voices passively, and doesn't drain the battery. Another important point to note is that Motorola has developed a mechanism to activate the voice command while the device is on standby, but once it's activated, it leverages the existing abilities of Google Now.
In terms of capabilities, with Moto Voice, you can do many system tasks as well as perform voice searches via Google. Some of the common examples are calling or messaging someone, taking a picture or selfie, setting an alarm, navigating to home or work, sending a WhatsApp message, posting on Facebook as well as searching the web for just about anything. To use other apps that support this functionality, you need to first enable Moto Voice by heading to the Accessibility menu in settings.
We really appreciate the ability to activate the voice command by any name since it adds a personal touch. While you can call the phone just about anything, we settled on 'Okay Jarvis', like any geek would (that's the name of Iron Man's virtual assistant). We also loved the ability to interact with the device by simply saying 'What's New' to see if we missed any notifications, instead of picking up the smartphone time just to check that. As noted in our first-gen Moto X review, this feature definitely changes the way you use your smartphone and the feeling is no different with its successor. While it's not perfect and doesn't activate many a times, there's no doubt that it's a really useful feature and not a gimmick. Though our biggest problem with this feature would its over-dependence on a data connection, since even most features refuse to work without the internet.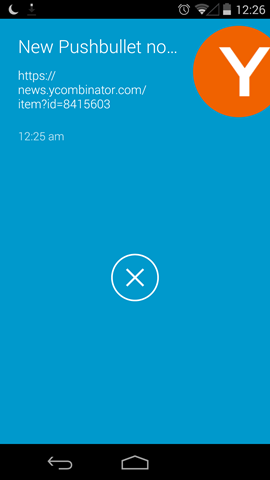 Another neat feature in the first-gen Moto X was its Active Display. It made use of the AMOLED display panel's properties to show just notifications and time, with all other pixels being black and thus conserving battery life. With the new Moto X, the feature has been rechristened to Moto Display and there are some subtle upgrades as well. Now, you can see up to three notifications and tapping on them will show you their content, and tapping again will take you to the app itself. It also displays the battery status and date in the status bar above. Along with providing a window to notifications, we also think it serves a purpose of 'double-tap-to-unlock' feature found on most devices these days. In fact, it goes a step ahead since you don't need to double tap with Moto Display and a simple swipe downwards lets you unlock the phone. We loved this capability so much so that we rarely felt the need to hit the power button to unlock. Another reason for the Moto Display being more effective is that it comes into action whenever you bring your hands near the device, and not when you take it out of pocket or flip the device on its back.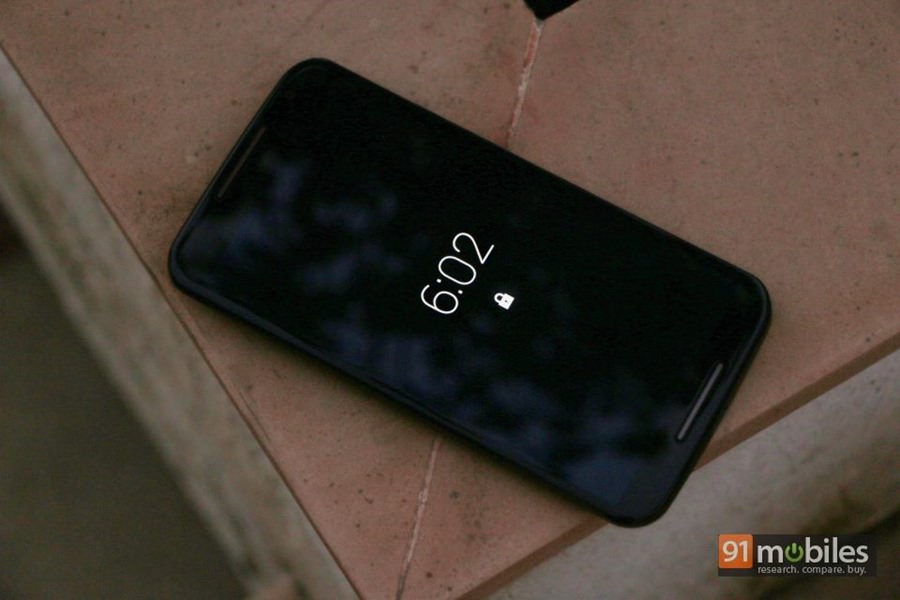 This is possible because of two infrared sensors above the display and one below it. These sensors detect your hand and activate the Moto Display feature. There are more option available with Moto Actions, which utilises these sensors for enabling them. Whenever you get a call, you can silence it by waving your hand over the phone. You can also snooze an alarm the same way. While the options are limited, we believe that Motorola can push an update to offer more features with Moto Actions.
Last, but not the least, is Moto Assist, a feature which was also available in its predecessor. With this, you can make use of various modes like Sleeping, Driving, and Meeting, which come in to effect automatically. Meeting mode, for instance, takes a look at your calendar entries and silences all the incoming notifications and even allows you to send an automated message to callers. Similarly, Driving mode automatically detects when you're in car via GPS and turns on the loudspeaker for incoming calls and messages.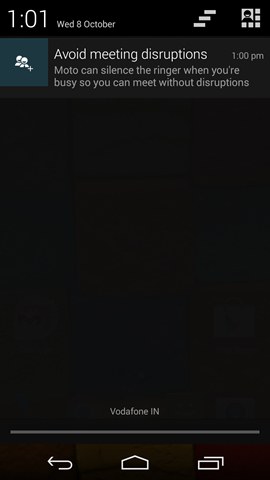 As smooth as silk
Did you know that the original Moto X was powered by an octa-core processor? Well, it's a fact, but only two of those cores were meant for application processing (1.7GHz dual-core Qualcomm Snapdragon S4 Pro), while the other four were for available for rendering graphics (Adreno 330) and the last two were low-power cores for processing natural language and contextual tasks. While the combination which Motorola developed in-house and termed as X8 Mobile Computing System was an interesting idea, what went against Motorola was the choice of a mid-range dual-core chipset for processing at a time when everyone was highlighting the power of eight cores.
That's not the case with the latest-gen Moto X as it gets Qualcomm's top-of-the-line processor, the Snapdragon 801 offering four cores running at 2.5GHz. For graphics, the device has Adreno 330 graphics clocked at 578MHz. Just like its predecessor, it gets additional two low-power cores to assist in value-added features mentioned earlier. The processing muscle is supplemented by 2GB of RAM.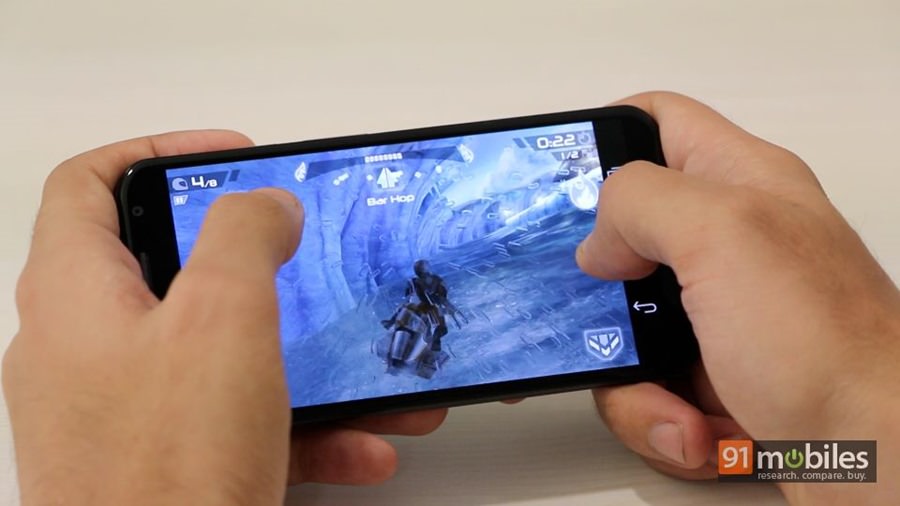 The hardware combination helps provide a zippy performance and stock Android adds to the steroidal speeds. You'll not face any slow downs while performing any tasks even with multiple apps running at the background. The experience of playing games with the new Moto X was also great as we didn't run into any hangups and there was no dropping of frames either. Another good thing about the handset is that it doesn't heat up unlike many other devices and thus allowed us to play addictive games like Beach Buggy Racing and Riptide GP2 for long periods.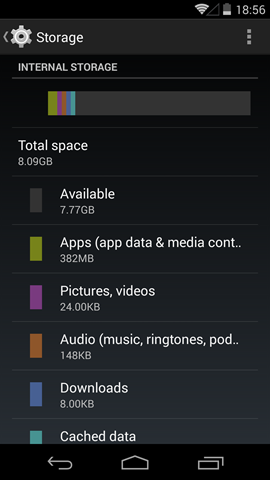 While the brand understood the customer's needs with the smartphone's sibling, the new Moto G and offered a storage expansion slot with it, the new Moto X comes with fixed 16GB flash storage. Though there's a 32GB storage variant, it's not available in India. What's more disappointing is that the user can only make use of just 7.8GB. While it's not necessarily low, it's bound to fill up quickly if you install a number of apps or store multimedia content on the device. Thankfully, it has support for USB On-the-Go capabilities allowing plug-n-play of USB drives.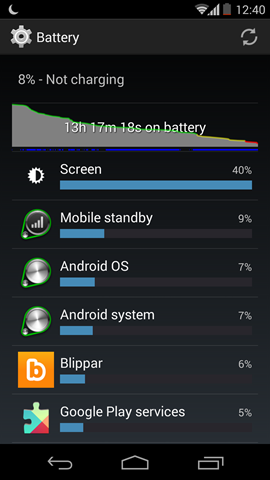 Perhaps, the only thing that Motorola had to compromise in keeping the second-gen Moto X slim was its battery life. And, there's not doubt that it's also one of the most crucial aspects of a mobile device. The new Moto X is juiced up by a 2,300mAh embedded Li-ion unit – just 100mAh more than its predecessor. The smartphone can't hold a candle in front of flagships that boast upwards of 3,000mAh batteries. Although, the company claims that it can deliver an all-day working life, we got mixed results. With moderate usage, we were able to run it through the day, but with use of 3G, it barely lasted an entire working day. In our standard video loop test with Wi-Fi off and both brightness and volume at 50 percent, the device played an HD video on loop for close to 10 hours, which is impressive and better than the average.
The device is loaded in terms of connectivity features including support for 3G, Wi-Fi ac (including dual-band support), Bluetooth 4.0 LE, GPS and NFC. Sadly, the smartphone isn't compatible with Indian 4G networks.
A near-perfect Android flagship that won't cost a kidney
When the original Moto X landed in India in March, it surprised everyone with its sticker price of Rs 23,999 considering it was priced higher at $599 in the US. Combined that with competitive pricing of Motorola's other offerings, expectations were set that the company's latest flagship will also carry an attractive price tag. Sadly, that's not the case as the Moto X (2nd-gen) is sold on Flipkart at Rs 31,999 for the regular variants, while the ones with leather or wooden backs cost Rs 2,000 more.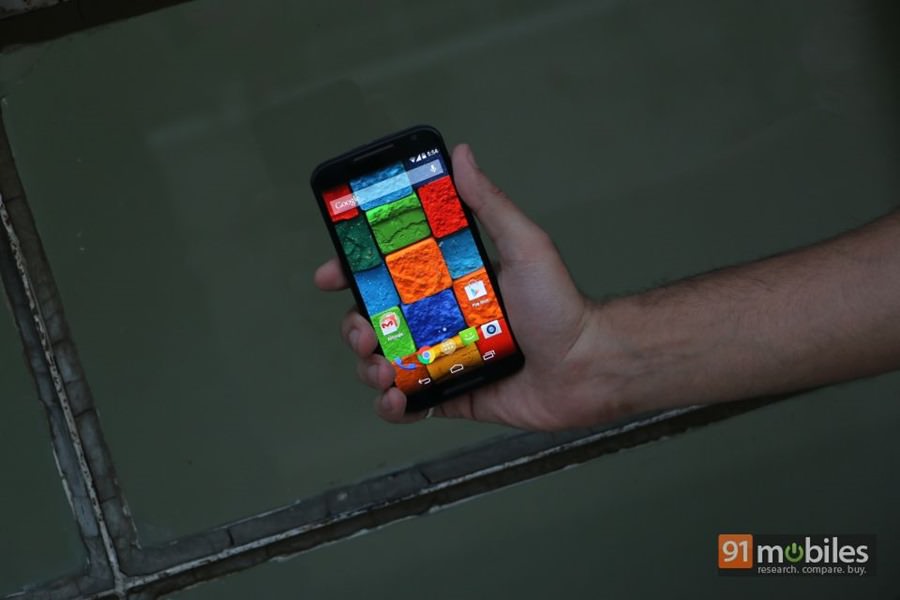 The pricing is by no means earth-shattering considering most premium flagships these days cost upwards of Rs 40,000, but then there are brands like Xiaomi and Huawei that have challenged the traditional paradigm of price vs performance with their offerings.
But if you ask us for our opinion, then we do believe that Motorola has priced their flagship offering quite well. It's a great device with good design that's comfortable to handle, a stunning display, and loaded hardware, along with the features like Moto Voice and Moto Display that have the capability to change your life. With its unique features, the new Moto X also takes care of our grouse with most flagship smartphone these days – they score high when it comes to top-tier specs, but offer little else when it comes to useful features.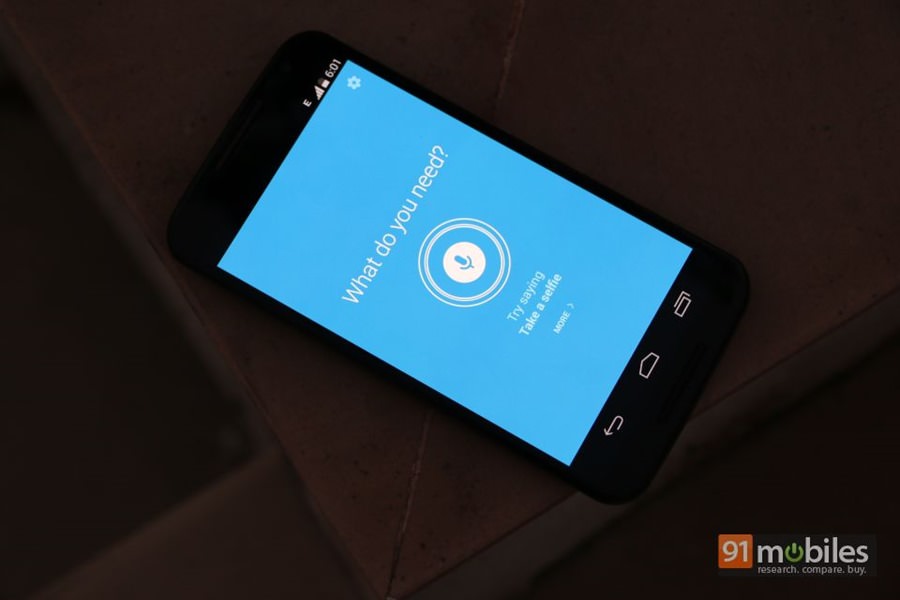 Sadly, as much as we liked the device, there are a few things that are very hard to ignore – an average camera performance and low storage that's not expandable. There's also considerable competition in the form of the Lenovo Vibe Z2 Pro (first impressions) that's loaded to the brim in terms of features and the HTC One E8 (review | FAQs) that gets an edge in terms of connectivity. If you extend your budget slightly, than Samsung's current flagship, the Galaxy S5 (review | FAQs) is a great all-rounder.
Having said that, if you're looking for a smartphone that goes beyond the hardware and makes your life easier, then you can't go wrong with the second-gen Moto X.
Price: Rs 31,999 / Rs 33,999
Editor's rating: 8 / 10
Pros
Distinct design
Lovely display
Powerful specs
Latest Android
Motorola's customisations
Cons
Fixed memory
Camera can't match up to other flagships
Photos and video by Pratik Vyas
Competitors for Motorola New Moto X (2nd Gen)
| | | |
| --- | --- | --- |
| Motorola New Moto X (2nd Gen) | vs | Google Mobile Nexus 5 |
| | | |
| --- | --- | --- |
| Motorola New Moto X (2nd Gen) | vs | Google Mobile Nexus 6 |